Satechi announces 2-in-1 Headphone Stand with Wireless Charger for Apple AirPods Max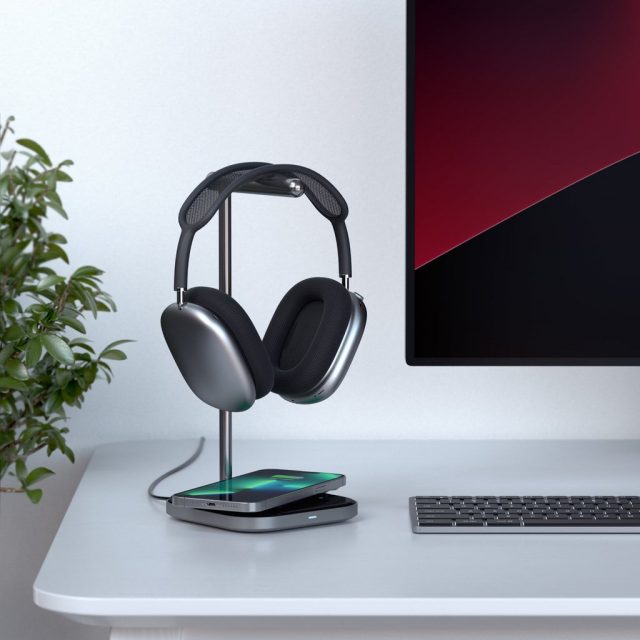 If you're like me, having a neat and tidy desk is a must. Look, I understand that things can get a bit messy sometimes when under a heavy workload, but for the most part, keeping a clean and organized workstation can be key to success.
And that is why many people buy headphone stands. Whether for wired or wireless headphones (or headsets), these stands can keep them out of the way, freeing up your desk for other things. Such a stand can also protect your expensive headphones when not in use, so they aren't accidentally knocked off the desk or ruined by a spilled beverage.
Today, Satechi launches its all-new "2-in-1 Headphone Stand with Wireless Charger." As the name implies, this elegant stand has an integrated Qi charger, so it can wirelessly charge other devices such as an iPhone or in-ear AirPods. It does not wirelessly charge wireless headphones that are hung on the stand, however.
While this product is designed with AirPods Max in mind, it can, of course, work as a stand for any over-head headphones. And yes, it can wirelessly charge Android phones too. It even has a USB-C output, so you can use a cable to simultaneously charge additional devices, such as the aforementioned AirPods Max headphones or an iPad.
"Perfect for long work days, this stand keeps essential devices powered and organized via its built-in wireless charger at the foot of the stand up to 7.5W. Simply plug in the headphone stand, connect headphones via the USB-C port, place a device on the wireless charging pad, and the built-in LED light will confirm when the wireless device is charging," says Satechi.
The company adds, "Designed with convenience and style top of mind, Satechi's advanced headphone stand features a space gray aluminum base that compliments nearly any desktop set-up, whether used for work or gaming. Equipped with a convenient cable management hook, users can wrap and store cords when not in use to clear and organize a workspace and free up valuable desk space."
While the 2-in-1 Headphone Stand with Wireless Charger looks reasonably priced at just $79.99, there is a bit of a catch -- it doesn't come with a wall adapter. In other words, Satechi requires you to buy a 20W USB-C PD Wall Charger (found here for $17.99) in order for the stand to actually work. With that said, Satechi is offering 20 percent off the stand if you use code CES20 (expiring soon). You can pre-order the stand here now.
Please note: Some of the above links may be affiliate links, meaning we, or our writers, may receive payment if you purchase one of these items (or other items) after clicking on them.