Monster Blaster 3.0 Bluetooth boombox would make Radio Raheem proud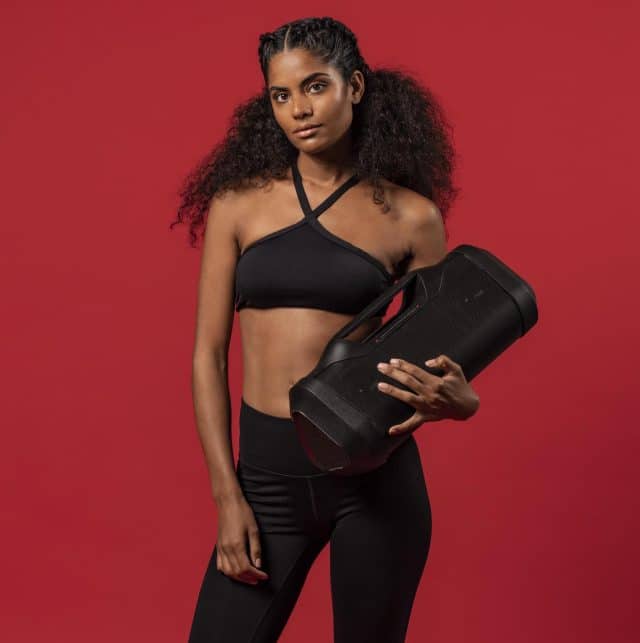 Back in the 1980s and 1990s, when you wanted to play your music publicly, you had to lug around a huge boombox powered by C or D batteries. It was a costly and tiring ordeal, but it was well worth the effort; it allowed friends to simultaneously enjoy music on the street, at the beach, or in the park. The boombox became a big part of Hip-Hop culture too and was immortalized by fictional character Radio Raheem in the classic Spike Lee film Do the Right Thing.
These days though, kids don't really need a big boombox anymore. Smartphone speakers can get pretty loud, and if you need some extra volume, a small Bluetooth speaker can often get the job done. But what if you really want to blast your music? Like, maybe you want to play some Hip-Hop music at a basketball court or crank some rock and roll loudly at a party. Well, the all-new "Blaster 3.0" Bluetooth boombox from Monster should hit the mark.
"With a push-button EQ, Blaster easily adapts its immersive sound for different uses, filling rooms of any size with breathtaking audio, and just as easily projecting big sound in open, outdoor environments. With a smartly engineered 60-watt dual stereo speaker configuration, further optimized with two passive radiators and a dedicated 60-watt bass woofer, Blaster gives new meaning to the word 'boombox.' Not only does it deliver monstrous sound with deep bass, it can do so for up to 12 hours on a single charge -- meaning users can party the whole day or night without having to plug it in," says Monster.
The company further says, "Blaster's artfully-crafted body utilizes premium materials designed to withstand the rigors of mixed indoor and outdoor use, without compromising Monster's legendary style. It's wrapped in beautiful steel speaker mesh and coated with industrial-grade, rust-proof paint. Its surface also includes a custom patterned, heavily textured polymer that not only gives an iconic look but prevents scratches. It features vibration dampening rubber feet to isolate the music from whatever surface Blaster is placed on, ensuring the music always sounds excellent. On top of all that, Blaster is IPX4 water resistant and will hold up to the elements."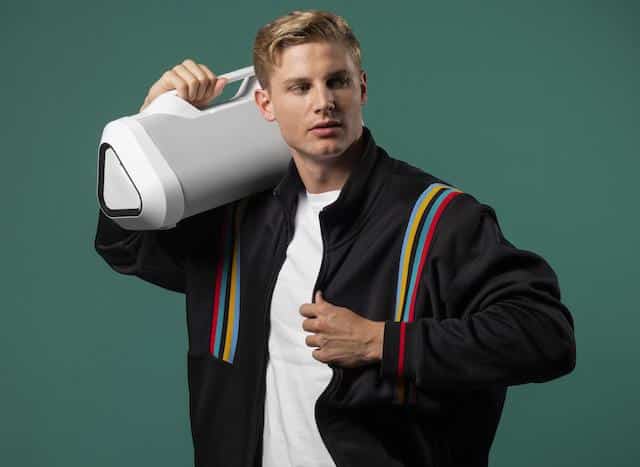 Monster shares features and specifications below.
1 x 60-watt integrated subwoofer and 4 x 15-watt full-range drivers. 120 total watts of power.
Pure Monster Sound with Environment EQ featuring Indoor and Outdoor Modes optimizes the sound based on your space.
Listen to music for 12 hours straight on a single charge with the mighty 5,200 mAh battery.
Steel speaker mesh, industrial-grade rust-proof paint, and a custom-patterned plastic make Blaster 3.0 virtually scratch-proof.
Vibration dampening, solid rubber feet ensure audio never muffles or distorts, regardless of surface.
IPX 4 rating means no worrying about rain, splashes, or unruly weather.
USB-A power bank charges your devices so you can stream your music without worrying about them losing power.
A luxurious carry handle wrapped in a high-end matte silicone makes Blaster durable and beautiful.
3.5mm AUX input, 3.5mm mic input, and wireless Bluetooth protocol means you can play your favorite music from multiple sources.
NFC pairing with compatible Android devices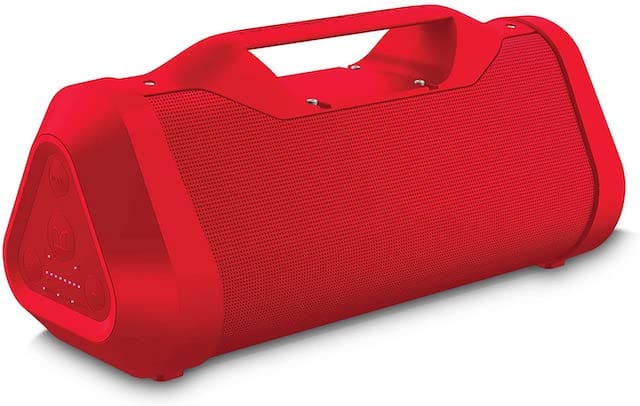 The Blaster 3.0 Bluetooth boombox can be purchased immediately here for $399. Monster is offering the speaker in three colors -- black, red, and white. All three colors look wonderful, but I find the red to be the most striking and beautiful. This is subjective, of course, so please tell me which color you like best in the comments below.
Please note: Some of the above links may be affiliate links, meaning we, or our writers, may receive payment if you purchase one of these items (or other items) after clicking on them.