Startpage launches Privacy Protection browser extension to block cookies and ad trackers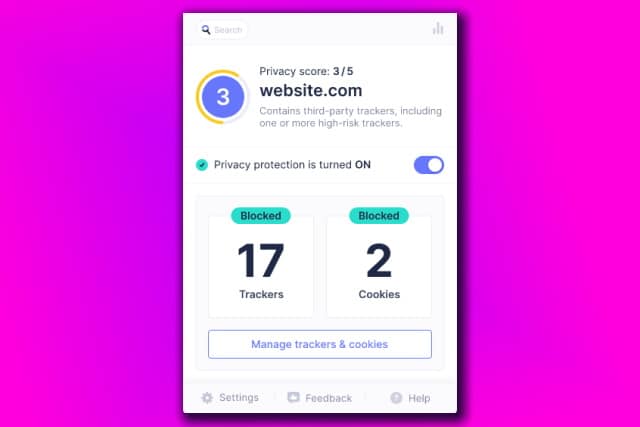 Startpage is a familiar name for internet users with an interest in privacy. Not content with providing a privacy-centric alternative to Google's search engine, the company has launched more private rivals to other Google products, with Private Language Translator being a recent launch.  Now the company has a new browser extension which has been designed to keep internet users safe.
Offering protection from "Big Tech", which Startpage points out is "recording and auctioning off your personal data" is the new Startpage Privacy Protection extension. Available for Chrome and Firefox, the extension not only blocks ad, social and cookie-based trackers, but also assigns the sites you visit a privacy score so you can learn of their trustworthiness, as well as giving you control over data collection and blocking fingerprinting.
See also:
Startpage says that the extension could help protect the average user from hundreds of trackers and cookies each week. Protection can be configured on a site-by-site basis, and the Startpage Privacy Protection can provide you with a privacy report that gives you an overview of just how private your online life really is... or isn't.
Robert E G Beens, founder of Startpage, explains why the extension is so important:
From sensitive search queries like "how to get out of debt" to social posts featuring your child's face to e-commerce sites that stalk your holiday shopping habits, bits of personal data are saved and sold every second. Tech companies, search engines, social platforms, data brokers and advertisers have been profiting off this data collection at the expense of consumers for too long. With the Startpage Privacy Protection browser extension, we are proud to deliver the Startpage promise beyond just search, giving users an unmatched layer of protection against all the tracking and tagging with more control and transparency than ever.
The Startpage Privacy Protection extension actually serves numerous functions, helping to keep users safe in several ways:
Set default search to Startpage, ensuring searches are private, not saved, sold, or used for profiling
Send Global Privacy Control (Do-Not-Track) signal to visited sites with your privacy preferences
Detect and block third party sites using special scripts to collect information about you
Stop trackers from being placed on search activities by advertisers and third parties
Replace social media, video, and music site tracking defaults with "click-to-activate" options
Evaluate and display a 1 - 5 privacy rating based on each site's privacy practices
Displays your privacy report, a breakdown of privacy scores by percentage of total sites visited and your total number of trackers and cookies blocked
There is more information over on the Startpage site.
Startpage Privacy Protection is available to download for Chrome and Firefox.