New 'Search highlights' feature coming to Windows 11 next week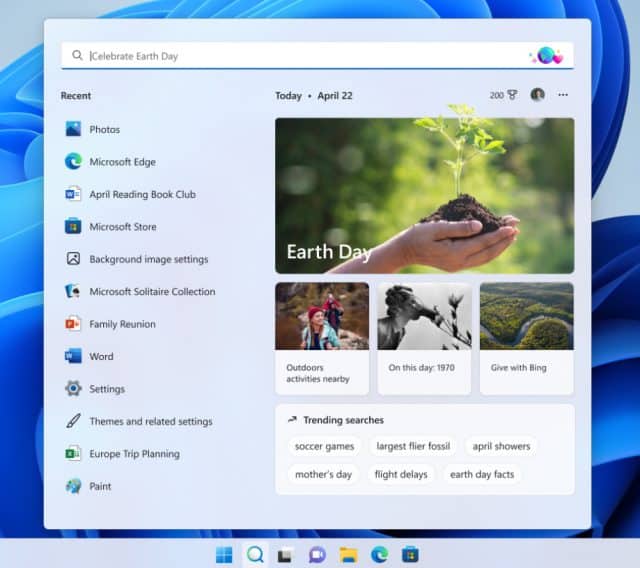 Microsoft rolled out a new Windows 11 build to Insiders in the Dev Channel today and took the opportunity to announce a new search feature arriving early next week.
The upcoming 'Search highlights' feature will show "interesting moments in time" each day in the Windows 11 search window, including major holidays and anniversaries.
These highlights will be both global and localized, and Microsoft has chosen Earth Day (April 22) as a prime example of what you can expect to see (take a look at the image at the top of the page).
Microsoft says of the new search addition:
To dig deeper, you can explore additional content in search home related to today's moment and daily content like word of the day, Microsoft Rewards offers, trending searches, and more. Each day features something different to learn about! The left side of search home also shows an extended list of your recently launched apps, files, settings, and websites to help you get back to what you were doing last.
But perhaps more usefully, "Signing in with your work or school account enables Search to be your one-stop-shop for your organization's files and contacts through Microsoft Search. Search highlights will feature the latest updates from your organization and suggested people, files, and more. Explore files that may be of interest to you or browse through your organization's people chart. As always, just start typing to find everything related to your organization, right at your fingertips using Search."
You will be able to toggle the new feature on or off in Settings > Privacy & security > Search settings > Show search highlights.
The change isn't solely for Windows 11 however -- it will also be coming to Windows 10 search box and search home.
The feature will begin rolling out to Windows Insiders next week, but it may not be offered to you straightaway as Microsoft plans to limit access initially so it can monitor feedback before pushing it out to all.