Full-screen Microsoft 365 trial offer is blocking access to the Windows 10 desktop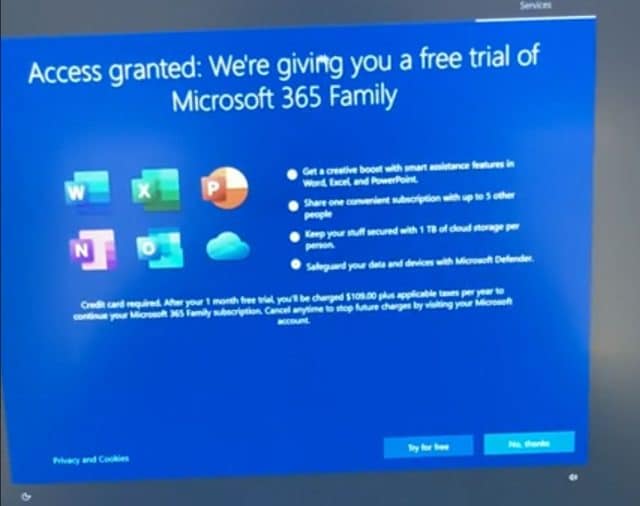 Apparently not content with irritating Windows 10 users with a rather deceptive invitation to upgrade to Windows 11, Microsoft is also causing annoyance by displaying an unskippable full-screen ad that essentially forces users to install Microsoft 365 Family.
Affected users report that the nag screen is blocking access to the desktop until they agree to start a free trial of Microsoft 365 Family (which most people are still referring to as Office 365). As part of agreeing to the trial, users are asked to provide payment details, and although no charges are made until the end of the trial period, the danger is that some people will forget to cancel and will end up paying.
See also:
The issue is affecting people who are performing a clean installation of Windows 10, or installing a feature update, as part of the Windows Out of Box Experience (OOBE) which appears before the desktop is accessible.
While it seems that -- as Bleeping Computer reports -- that different users are seeing variations of the nag screen, there is one version that is particularly irksome. The problematic version is headed Access granted: We're giving you a free trial of Microsoft 365 Family, with users being provided with Try for free and No, thanks buttons to click.
If a user clicks No, thanks, the subsequent Confirm your payment option screen includes only a Start trial, buy later option. A video of the screen has been shared on Reddit, with the user in question saying: "Windows 10 preventing me from booting into desktop without first non-consensually being forced to accept their free trial and $100 monthly thereafter".
There is speculation that Microsoft has inadvertently switched the behaviors of the Try for free and No, thanks buttons, but there is also speculation that the company has sneakily done it on purpose. Whatever is the case, the fact that there is not a clearly labelled (and functioning) Skip this option is a serious oversight.
Image credit: whatsurissuebro