Plugable launches UD-3900PDH and UD-768PDZ premium docking stations

USB-C docking stations are very common these days. Hell, websites like Amazon are littered with countless makes and models. Of course, not all of them are good, nor do they offer the same things. Features can vary from dock to dock, such as the number of USB ports or video outputs. I recommend sticking with reputable brands such as Kensington, StarTech.com, and Plugable to name a few.
Speaking of Plugable, today, that company launches two new USB-C docking stations. Called "UD-3900PDH" and "UD-768PDZ," both offer 100W power delivery and feature triple monitor support. While they both have SD card readers, only the UD-3900PDH has a dedicated micro SD reader as well.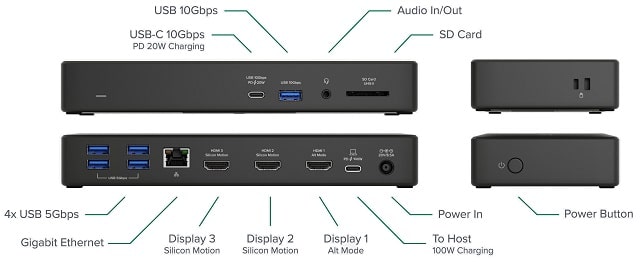 "The UD-3900PDH is a triple display docking station built around the DisplayLink DL-3900 chipset. It adds three displays on Windows, ChromeOS, and Macs with full-featured USB-C, USB4, or Thunderbolt-enabled ports. The dock provides two 1920x1200 @ 60Hz displays as well as a 4K @ 60Hz. It also includes 100W of USB-C Power Delivery, five additional USB 5Gbps ports, SD and microSD Card slots, a wired Gigabit Ethernet port, and 3.5mm analog audio input/output jacks," says Plugable.
The company adds, "The UD-768PDZ is a similar docking station leveraging the Silicon Motion (SMI) chipset to provide three additional 1080P @ 60Hz displays on Windows, ChromeOS, and Macs with full-featured USB-C, USB4, or Thunderbolt-enabled ports. Users can also connect to six additional USB ports (4x USB 5Gbps, 1x USB 10Gbps, and 1x USB-C 10Gbps), a wired Gigabit Ethernet port, SD Card slot, and 3.5mm analog audio headset port, all through a single USB-C cable back to the host. It also drives 100W Power Delivery to the host computer and 20W Power Delivery through the front USB-C port to charge a phone or peripheral."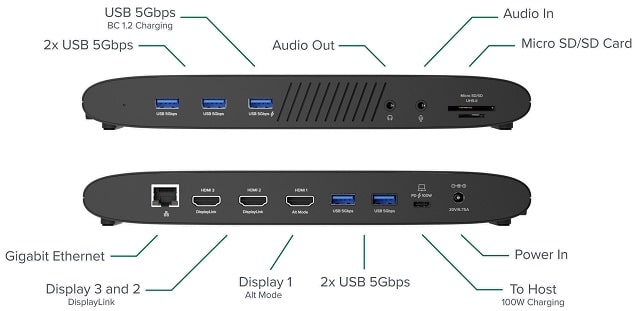 Both of the new Plugable docking stations can be purchased starting today. The UD-3900PDH can be bought here for $169.99, while the UD-768PDZcan be had here for just $10 more. However, for a limited time, there is a $20 clickable coupon for both.
Please note: Some of the above links may be affiliate links, meaning we, or our writers, may receive payment if you purchase one of these items (or other items) after clicking on them.