Microsoft's huge update to Windows 11 arrives today, with many new features, including AI-powered Bing on the taskbar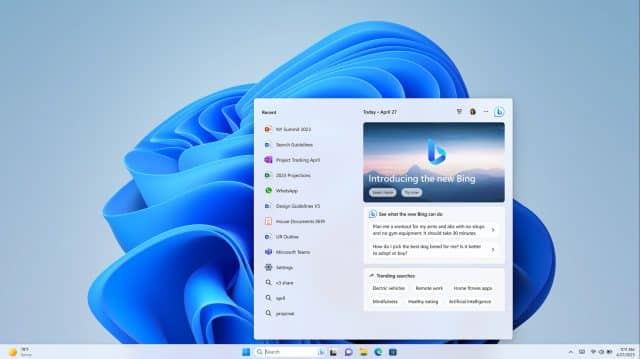 Windows 11 has been a hard sell for Microsoft. It has demanding system requirements which means it won't run on older hardware, and it feels a bit unfinished in places. With its Moments releases, Microsoft is trying to make the new operating system more appealing, and today it adds a raft of new features.
With the latest Windows 11 feature release, Microsoft is focusing on innovation "in a few key areas". These include:
Bing AI-power chat integration on Windows taskbar will soon allow Windows 11 users the ability to search, chat, answer questions and generate content from right on their Windows taskbar. With the new AI-powered Bing front and center to this experience you will be empowered to find the answers you're looking for, faster than ever before
Removing barriers for iPhones users with the introduction of Phone Link for iOS. With Phone Link for iOS, you'll never have to worry about missing that important call or text while you are concentrating on your Windows 11 PC
Additional Windows 11 features designed to make your everyday easier

Easier to find and adjust your Windows Studio Effects directly from the taskbar in quick settings. Now you can instantly adjust background blur, eye contact, and automatic framing, and apply them to your favorite communications applications, with seamless integration into Microsoft Teams
Revamped Chat signature experience makes it easier to preview your video and jump straight into a call or share a call link through any app with those you care about most
Redesigned Quick Assist app allows you to take advantage of the new capability to switch between screen sharing and full control during a session to give or get help the way you want
Expansion of Widgets to include Phone Link, Xbox Game Pass, and partners like Meta and Spotify, so it has never been easier to stay up to date on the things that matter
Touch controls for Snap now allow you to easily open and close Start, Widgets, and quick settings, have made getting things done on touch devices effortless
Screen recording in Snipping Tool allows you to easily capture, save, and share your Snipping Tool creations -- all right in the app
Notepad tabs now provide a quick and easy way to keep your data organized and enable you to switch between notes so you can create ready to-compile code without formatting issues
New accessibility features with enhancements to Narrator that extend support for more braille displays, which includes 3 new Designed for Surface displays from HumanWare
Control your environmental impact with new toggles and recommendations directly in your system settings
Personalize your experience with AI-powered recommended content within your Start menu
Windows 365 app now allows you to go from your desktop straight to your Cloud PC, which provides you with a personalized experience tailored to your settings, profile, and work style
You can find out more about what's new, here.
This update will start to become available today via Windows Update. If you're running Windows 11 22H2 you can get it by opening Windows Update settings (Settings > Windows Update) and selecting Check for updates.
Microsoft expects all new features to be fully available by early next month.