Microsoft brings Gmail support to the new Outlook for Windows preview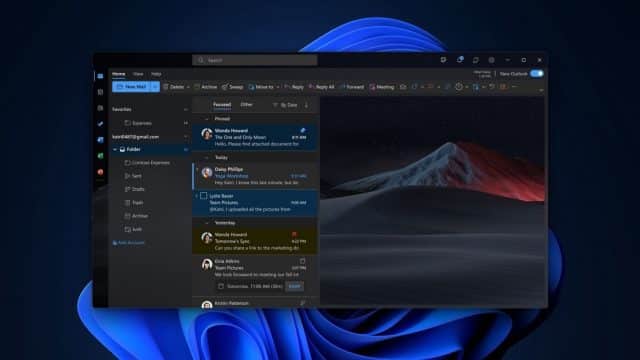 Having announced its plans to do so last year, Microsoft has added support for Gmail accounts to the new Outlook for Windows preview for Windows 10 and Windows 11.
Gmail support is something that has been available to Office Insiders for a little while, but now the company is opening it up to anyone who is running the preview of the new Outlook for Windows. Microsoft says that it also plans to add IMAP support as well as support for Yahoo and iCloud, but for now it is Gmail users the company is treating -- but there is something you need to do first.
See also:
In a blog post about the latest changes, Microsoft says: "The initial release of this preview only supported first-party accounts from Microsoft, whether they be work, school, or personal. But Outlook is for everyone, whatever accounts they use – just like on our mobile and Mac apps. Today, we will begin to roll out support for Gmail accounts to those using the preview of the new Outlook for Windows. Soon, we will also add support for Yahoo and iCloud, as well as the ability to connect your mailbox through IMAP. It's our intention that every person be able to access all of their emails -- in one spot -- on any Windows 10 or Windows 11 device". 
The company adds:
Longtime Outlook for Windows users will note that third-party account support has also been improved over the classic client experience, which didn't have Google Calendar or Contacts support. Now people can use their Gmail email, Google Calendar and Contacts within the new Outlook for Windows preview. This has been a popular ask and is made possible by our modern codebase in the new Outlook for Windows.
Other new features and options for third-party accounts include:
Rich editing, spelling, and auto complete suggestions powered by Microsoft Editor.
The ability to send emails with polls to help make decisions quicker. (Work and School accounts only)
Delay the delivery of an email for up to 10 seconds so you have a chance to "undo" sending -- always an excellent feature if you have a typo or accidentally forgot someone on an email -- or just want to make a few quick changes.
The ability to join a Skype or Teams call directly from the new Outlook for Windows.
The ability to pin important emails to the top of your inbox -- helping ensure you don't forget to follow up on those most important messages.
Microsoft says that it already has further plans for the app based on the feedback it has received so far. This includes:
Numerous visual updates and personalization options so you can create your preferred email experience.
We're giving our calendar surface a fresh new look with bolder colors and better readability. Whether you're scanning your day or organizing your month, your calendar will look beautiful.
Support for Yahoo, iCloud and IMAP email accounts.
Offline support so you can get things done and access content even when not connected to the Internet.
Native ICS file type support.
To take advantage of the new options, there's no need to install a new app -- you just need to activate the preview. If you're yet to activate the new Outlook, just fire up the "classic" version of Outlook for Windows (or the Mail and Calendar apps) and click the New Outlook toggle to the upper right of the screen.