4MLinux 42.0 now available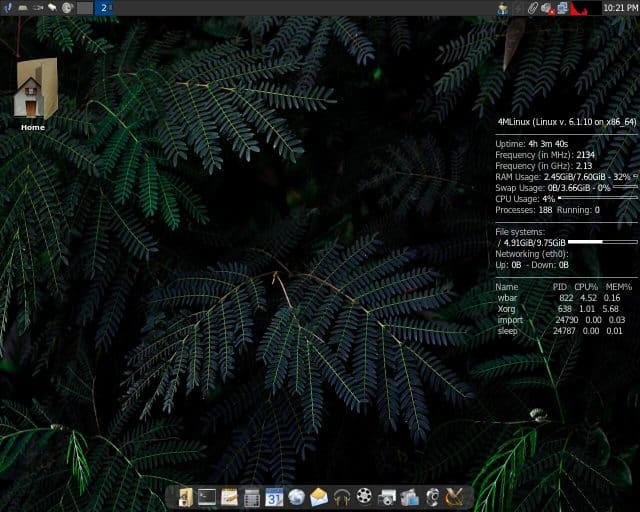 4MLinux is a lightweight Linux distribution that is known for its versatility and ease of use. The latest version, 4MLinux 42.0, has been released, and the operating system is chock full of new features and improvements.
One of the most significant changes in this release is the status of the 4MLinux 42.0 series, which has been changed to STABLE. This means that users can expect a stable and reliable operating system that they can use for their day-to-day tasks.
For those who need to edit documents, 4MLinux 42.0 comes with two powerful office suites, LibreOffice 7.5.2 and GNOME Office, which includes AbiWord 3.0.5, GIMP 2.10.34, and Gnumeric 1.12.55. These applications provide a wide range of features and tools that allow users to create and edit professional documents, spreadsheets, and graphics.
For browsing the Internet, 4MLinux 42.0 comes with two popular web browsers, Firefox 111.0 and Chromium 106.0.5249.91. Both of these browsers are fast and provide excellent performance when browsing the web.
To send and receive emails, 4MLinux 42.0 includes Thunderbird 102.8.0, a powerful email client that supports multiple email accounts and provides advanced features such as message filtering, search, and encryption.
For music lovers, 4MLinux 42.0 comes with Audacious 4.3, a lightweight and powerful music player that supports a wide range of audio formats. Users can also watch their favorite videos with VLC 3.0.18 and SMPlayer 22.7.0, which provide excellent video playback performance.
Gaming enthusiasts will be pleased to know that 4MLinux 42.0 supports Mesa 22.2.3 and Wine 8.3, which allows them to play a wide range of games on their Linux system.
One of the most exciting new features in 4MLinux 42.0 is the availability of the 4MLinux LAMP Server (Linux 6.1.10, Apache 2.4.56, MariaDB 10.6.12, PHP 5.6.40, PHP 7.4.33, and PHP 8.1.17.). This server provides a powerful platform for web developers to build and deploy web applications.
4MLinux 42.0 comes with a range of extensions and improvements, including the addition of Krita, a raster graphics editor, and Hex-a-Hop, a video game. The distribution also includes improved support for many image, audio, and video formats.
AlsaPlayer, Baka MPlayer, GNOME MPlayer, GNOME MPV, mp3blaster are now available out of the box. The distribution has also adopted the famous XMMS as its default media player, which is capable of opening modern audio and video files and supports MOD and MIDI music.
Ultimately, 4MLinux 42.0 looks to be an impressive release; a stable and reliable operating system that can be used for a wide range of tasks. The distribution provides a powerful set of applications, tools, and features that cater to the needs of both casual and power users. An ISO can be downloaded here now.