Microsoft is testing Windows 11 Start menu ads to push Microsoft 365 and Microsoft accounts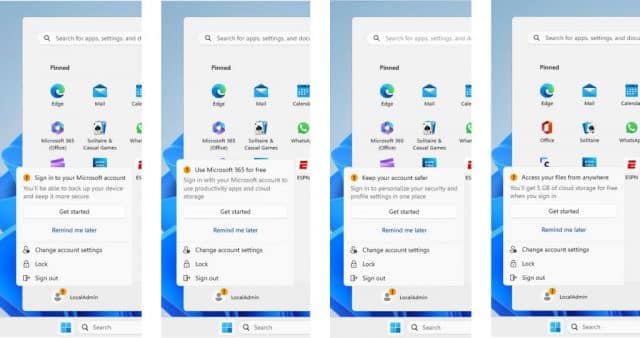 In the latest Windows 11 Dev build, there is a new Gallery in File Explorer for browsing your photos. This is something that is likely to prove popular, but the same build also include some rather more controversial changes.
In Windows 11 build 23435, Microsoft is tinkering further with the Start menu bringing ads to the heart of the operating system. The company likes to refer to this advertising as "badging", but the latest attempt to promote Windows 365 and Microsoft accounts is more likely to be seen as badgering.
See also:
This is far from being the first time Microsoft has used the Start menu as a platform for pushing products and services, and it is unlikely to be the last. Seemingly aware of the dangers of making any suggestion or admission that what is being added is advertising, the company wraps things up in different language -- what does "badging" and "treatments" mean to most people?
In a blog post about the new features, options and fixes to be found in the latest Windows 11 build, Microsoft says:
We are continuing the exploration of badging on the Start menu with several new treatments for users logging in with local user accounts to highlight the benefits of signing in with a Microsoft account (MSA). If you see one of these treatments, give us feedback on what you think. As a reminder, it is normal for us to try out different concepts in the Dev Channel to get feedback.
In a screenshot, Microsoft has shared a preview of no fewer than four "different treatments of badging on the Start menu highlighting the benefits of signing in with a Microsoft account for users logged in with a local user account".
The four "treatments" are:
Sign into your Microsoft account You'll be able to back up your device and keep it more secure

Use Microsoft 365 for free Sign in with your Microsoft account to use productivity apps and cloud storage

Keep your account safer Sign in to personalize your security and profile settings in one place

Access your files from anywhere You'll get 5 GB of cloud storage for free when you sign in
In each instance, there are Get started and Remind me later buttons
As Microsoft strongly hints, possibly hoping it will be believed, there is a chance that the Start menu ads you see here won't end up making their way to the release builds of Windows 11. While it is not unknown for Microsoft to listen to feedback, there are also plenty of example of the company forging ahead with unpopular changes and additions regardless of user opinion.
There is some good news, however. Even if these Start menu ads do get released to everyone, they will be optional, as noticed by PhantomOfEarth on Twitter: