Website X5 2023.2 adds MagicText AI content generator, spellchecker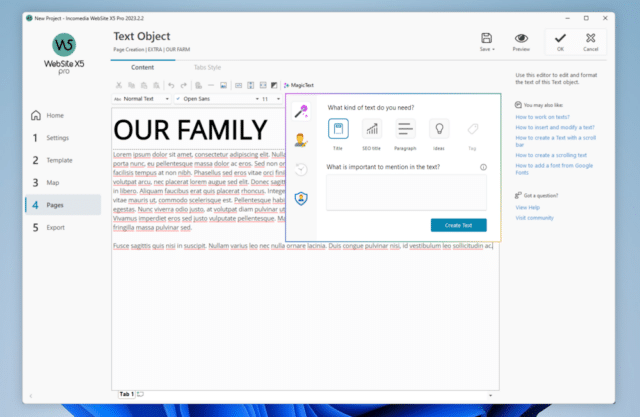 Italian developer Incomedia has released Website X5 Evo 2023.2 and Website X5 Pro 2023.2, a feature point release of its wizard-driven, user-friendly website building product line for Windows.
Version 2023.2 unveils a spellchecker for the tool's text editor, but the major highlight is a new Pro-only feature called MagicText, which promises to harness the power of AI to generate text.
Users will be drawn to the new MagicText button when using Website X5 Pro's text editing tool to generate content. After clicking, users will be given a choice of content: Title, SEO title, Paragraph, Ideas and -- if applicable -- Tags. They can also set other criteria including tone (concise, professional, casual, funny or enthusiastic), language
Once selected, users can enter up to 250 characters of text-based prompts, then leave MagicText to generate suggested text, which can then be amended prior to copying to the clipboard or inserting directly into the text itself. A History button provides users with the ability to retrieve previously generated content from the current session.
The tool makes use of OpenAI's models, which means users should be aware of its privacy policies before submitting sensitive information. MagicText is also considered beta at this time, so users are again encouraged to review any generated content carefully before using it.
The other new feature -- available in all editions of Website X5 2023.2 -- is a built-in spellchecker. Misspelled words are highlighted directly in the editor, and users simply need to right-click the word to select from a list of suggested alternatives or to add the word in question to the user dictionary.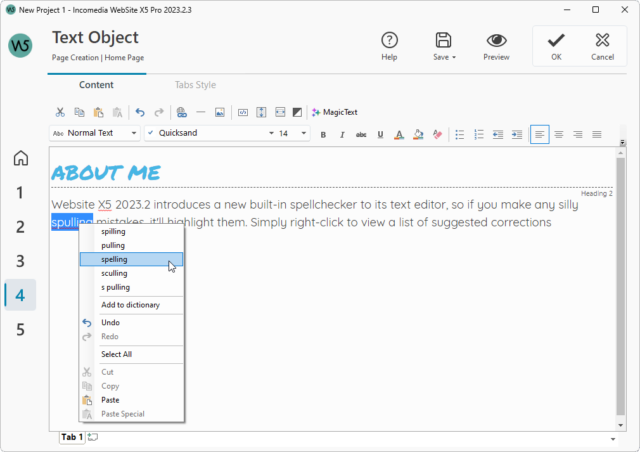 Both Website X5 Evo 2023.2 and Website X5 Pro 2023.2 are available now as free 15-day, function-limited trials for PCs running Windows 7 SP1 or later. The update is free to registered users -- new licenses cost $99.99 (Evo) and $219.99 (Pro) respectively, which includes hosting, updates and access to priority support (Pro only) for 12 months -- visit the WebSite X5 pricing page for details of what's in each version.