Meta officially announces the Quest 3 VR headset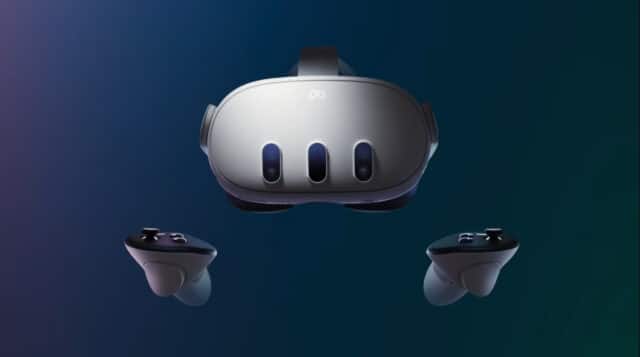 With Apple widely expected to announce its own VR headset next week, Meta has stepped forward to take the wraps off its own next-gen headset.
Meta Quest 3 will debut this fall and be slimmer, more comfortable and significantly more powerful than the Quest 2, with full color passthrough. The new headset will be offer higher resolution, stronger performance and what the company calls "breakthrough Meta Reality technology".
To power the display, the headset will feature a next-generation Snapdragon chipset developed in collaboration with Qualcomm. Meta says we can expect more than twice the graphical performance of Quest 2's previous generation Snapdragon GPU.
Making the announcement, Meta says:
On Quest 3, our best-in-class Meta Reality technology lets you seamlessly blend your physical world with the virtual one. These new experiences go beyond today's mixed reality by intelligently understanding and responding to objects in your physical space and allowing you to navigate that space in natural, intuitive ways that were nearly impossible before. High-fidelity color Passthrough, innovative machine learning, and spatial understanding let you interact with virtual content and the physical world simultaneously, creating limitless possibilities to explore. Now you can play a virtual board game on your kitchen table with Demeo, decorate your living room with virtual art courtesy of Painting VR, or dive into a fully immersive world to do things that are simply not possible otherwise. 
The Touch Plus controllers have been streamlined, and the outer tracking rings dropped. TruTouch haptics (which first debuted in Touch Pro) will "help you feel the action like never before". Hand tracking will also be supported out of the box.
The new headset will work with Quest 2's library of over 500 apps and games, and there will of course be a range of games designed to showcase the new headset's capabilities.
Quest 3 will ship in all countries where Meta Quest is currently supported this fall. Pricing for the 128GB headset starts at $499.99.
If you don't want to wait to jump into VR, you'll be able to pick up the current generation Quest 2 for the lower price of $299.99 from June 4.