Microsoft releases Windows 11 Build 23471 with new Add Phone Photos option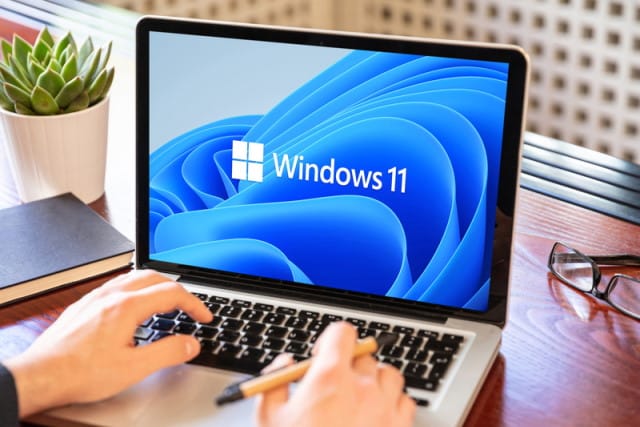 It's a new month, and to celebrate, Microsoft has rolled out a brand new Windows 11 build for Insiders in the Dev Channel.
Build 23471 introduces a number of fixes, changes and improvements, and also now lets you quickly add phone photos through the File Explorer Gallery.
Microsoft explains:
Accessing your phone's camera roll from your PC is an important everyday task that is now easier with File Explorer Gallery. There is a new button in the Command Bar titled "Add Phone Photos" that will help with setting up your PC to be ready to show these photos in Gallery. Clicking this button today will open a URL with a QR code that you can scan with your phone to get started.
Other changes and improvements include:
[Lock screen]
Microsoft has updated the network flyout on the Lock screen to align with Windows 11 design principles.
Network flyout on Lock screen now aligns to the Windows 11 design principles.
[File Explorer]
Microsoft is beginning to roll out the ability to tear out and merge tabs in File Explorer. This feature is beginning to roll out, so not all Insiders in the Dev Channel will see it right away.
Gallery in File Explorer, which began rolling out with Build 23435, is now available for all Insiders in the Dev Channel.
[Settings]
It is easier to control whether to use cellular when Wi-Fi is available but poor, using a new toggle which has been added to Settings > Network & Internet > Cellular.
Fixes include:
[File Explorer]
Fixed an issue where pressing Shift + F10 wasn't opening the context menu in File Explorer.
Fixed an issue where access keys appeared inconsistently if no button was pressed.
Fixed the following issues for Insiders previewing the Windows App SDK version of File Explorer
Fixed an issue that was causing explorer.exe to crash when opening the context menu for some Insiders. This same issue is believed to be the cause of some Insiders seeing an older design instead of the updated one.
Fixed the following issues for Insiders with Gallery in File Explorer:
Fixed an explorer.exe crash in the last flight related to loading/interacting with the scrollbar in Gallery.
Fixed an issue where Gallery may require clicking twice on the node in the navigation pane for initial load.
Fixed an issue where minimizing and reopening File Explorer would lose your scroll position in Gallery.
Hovering your mouse over pictures in Gallery should now show a tooltip with information about the picture.
Live updates (including filtering) are now enabled and no longer require using the Refresh button manually.
Fixed an issue where some file types (e.g., .heic) were not rendered correctly or performantly.
Fixed the following issues for Insiders with the modernized details pane in File Explorer:
Made the background for thumbnails a little lighter in light mode so it doesn't stand out as much.
If you have Narrator running when you open the details pane, it should now announce the file name.
If the setting to show file name extensions has been enabled, that will now be reflected in the details pane too.
[Taskbar]
Fixed an issue that was causing the taskbar to get cut off when switching to and from the tablet-optimized taskbar.
[Search on the Taskbar]
Microsoft has fixed the issue causing Insiders to see an empty tooltip displayed momentarily in certain cases including while the gleam is hovered if the new hover behavior for the search box and search highlight gleam is enabled.
[Other]
Fixed an issue where Narrator with Braille support wasn't reading numbered lists correctly in Microsoft 365 apps.
Known issues include:
[Dev Drive]
On a reboot, additional filters beyond AV might be attached to your Dev Drive. To check what filters are attached, please run 'fsutil devdrv query :' in Windows PowerShell. If you are seeing more than your AV filters, you can run 'fsutil volume dismount:' and then 'fsutil devdrv query'. After those steps, you should only see your AV filters.
There might be variable performance on different hardware. If you notice slower performance on your machine, please file feedback!
[Search on the Taskbar]
[NEW] Navigating the search flyout on the taskbar with the keyboard arrow keys will not work as expected.
Narrator customers may not be able to navigate down the left side panel of the search flyout.
Text scaling may not work in the search flyout.
[File Explorer]
Insiders may experience a File Explorer crash when dragging the scroll bar or attempting to close the window during an extended file-loading process.
Insiders who have Gallery in File Explorer will see the following issues:
Thumbnail loading performance for dehydrated cloud files and memory usage in large collections are known issues Microsoft is focused on improving. Please capture Performance traces in Feedback Hub for any performance-related issues. Rebuilding your Indexer can help if thumbnails are missing for cloud files; Search for "Indexing Options" and look in Advanced settings to find the rebuild tool.
Insiders will have issues with the following commands on recommended files in File Explorer:
Clicking on the Share command will currently bring up the Windows share sheet (non-OneDrive).
[Taskbar & System Tray]
The taskbar may not show the correct apps if you're using multiple desktops.
[Notifications]
The copy button for quickly copying two-factor authentication (2FA) codes in notification toasts (first introduced in Build 23403) is currently not working in this build. A fix is coming in a future flight.
[Backup and Restore]
Backups of a PC that was set up using a restore may not show up in subsequent restores.
Restore of solid color desktop backgrounds are not yet supported.
Image credit: rawf8 / Shutterstock