Microsoft Minecraft comes to Chromebooks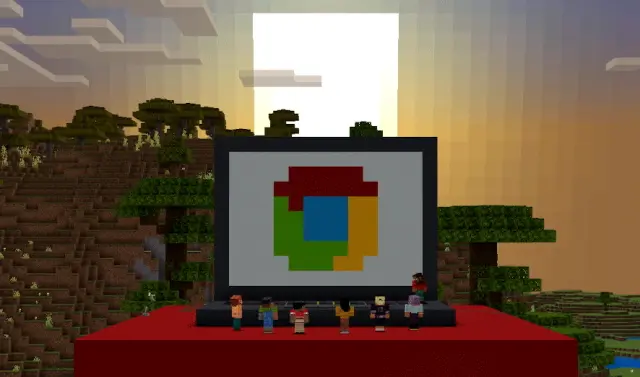 Chromebooks are only for business and general use computing, right? I mean, you can't do gaming on a Chromebook, right? Actually, these days, you absolutely can play some video games on Google's ChromeOS laptops. Case in point, today, the search giant announces that one of the most popular games of all time, Minecraft, is now officially available for Chromebooks!
Users can now purchase Minecraft: Bedrock Edition directly from the Google Play Store on their Chromebooks. This version includes access to the Minecraft Marketplace, where players can explore and acquire unique content, as well as the ability to join Realms and play with friends.
The game is compatible with all Chromebooks released in the past three years, ensuring a wide range of devices can partake in the building and exploration fun. For the smoothest gameplay experience, it is recommended to check the device specifications provided on the Minecraft website.
One of the most exciting features of Minecraft on Chromebook is its cross-play functionality. Players can team up with friends across various platforms, including Android, Xbox, PlayStation, Nintendo Switch, and Windows computers. Whether you're working together on grand architectural projects in Creative mode or embarking on thrilling survival quests, the possibilities for collaborative play are limitless. It is worth noting that cross-play requires a Microsoft account.
Chromebook users can even run the recently announced "Trails and Tales" update, offering a wealth of new content. This update introduces fresh mobs, blocks, and items that can transform the Overworld and add depth to your Minecraft experience. Immerse yourself in the adventure of discovering new resources, ride camels with friends, and leave messages for each other with the newly introduced editable hanging signs.
Google also wants to make it convenient for Android device owners to enjoy Minecraft on both their phones and the larger screens of their Chromebooks. When you purchase Minecraft on your Chromebook, you can also download the game at no additional cost on your Android device using the same Google account. This ensures seamless gameplay across multiple devices and platforms. If you already own Minecraft for Android and are logged in with the same Google account on your Chromebook, you can acquire Minecraft for Chromebook today at a discounted price, expanding your Minecraft universe even further.
Google and Minecraft enthusiasts alike are sure to be excited by the vast landscapes, ingenious creations, and memorable moments that will be forged on Chromebooks. So just head to the Google Play Store on your Chromebook here now to install the wildly popular game.