Ubuntu Linux-maker Canonical unveils a significant Snapcraft.io redesign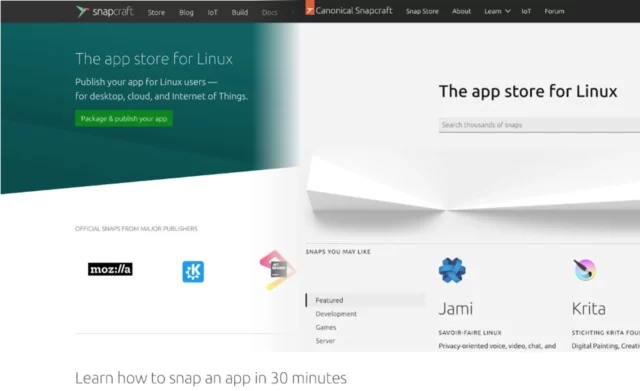 Today, Ubuntu-maker Canonical announces a comprehensive redesign of its Snapcraft.io platform. The online store, known for its collection of "snaps" -- software packages designed for Linux distributions -- has taken a major leap forward, moving away from its long-standing user interface and style.
The redesign project, which Snapcraft.io embarked upon after numerous years of maintaining a consistent aesthetic, has been executed with the aim of modernizing the overall look and feel of the platform. The initiative has involved a meticulous analysis of potential improvements, resulting in a two-stage rollout.
The first stage has seen a complete rebranding of the site. Snapcraft.io has chosen to bring its branding in line with other Canonical sites to offer a more consistent experience across their product range, including an updated color scheme. This phase has also been pivotal in understanding user feedback and incorporating it into the ongoing work. To facilitate this, Snapcraft.io has set up a survey (found here) for users to contribute their thoughts and ideas.
The second stage, currently underway, is taking things a step further. Rather than merely revamping the appearance, Snapcraft.io is also optimizing the functionality of its pages. The focus is on the user-friendly nature of the site, identifying areas of improvement, and restructuring the information currently displayed in snap listings to enhance its utility for users.
Additionally, Snapcraft.io is investigating ways to structure tutorials and documentation to streamline the process of snap creation. An experimental new front page is in the works, where users can explore a variety of interesting snaps. Additionally, the list of featured snaps will be updated more frequently, bringing more exposure and visibility to a diverse range of snap publishers.
Snapcraft.io has committed to iterative testing and improvements beyond the first two stages, indicating a long-term commitment to enhancing the user experience. User feedback will play a key role in this process, addressing concerns and shaping upcoming features.
This redesign signifies a bold step forward for Snapcraft.io, and users should be very excited. With a blend of aesthetic updates and user experience optimizations, Snapcraft.io is set to offer a revitalized experience that should truly benefit the Linux community overall.