Budgie 10.8 takes Linux desktop experience to new heights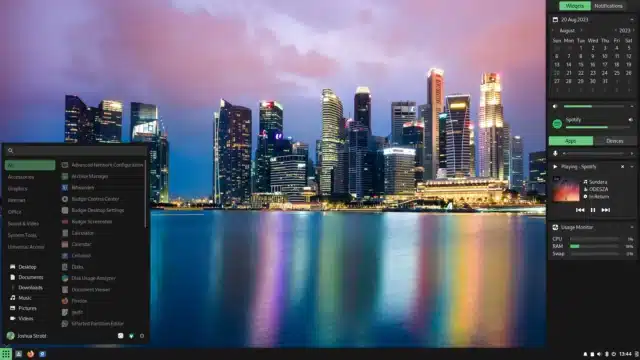 Exciting news, y'all! Budgie 10.8 has landed, and the Linux desktop environment is packed with features that promise to transform how we interact with our desktops.
First off, the Budgie Menu has received quite the makeover. If you've ever scratched your head wondering why certain apps are in the 'Other' category, you're not alone. The team listened to feedback, and now, applications have found more fitting categories. Plus, there's a nifty fix for non-Latin text crashes, thanks to a switch to C for the Application Indexer's fuzzy scoring function. And, let's say goodbye to the Utilities category; its apps have found a new home in System Tools.
Next up, the System Tray. Budgie has now incorporated StatusNotifier, making those tray icons more functional and consistent. This is a significant leap, especially as Budgie gears up for a future where Wayland is king.
Speaking of which, the Budgie-Magpie relationship just got stronger. With Budgie's history tied to GNOME's Mutter window manager, there were some bumps along the way, especially with ABI changes and pesky X11 regressions. The solution? A soft-fork of Mutter to create Magpie < 1.0. This is Budgie's bridge solution, holding the fort until the shiny, Wayland-ready "Magpie 1.0" graces our desktops.
Ever been puzzled by the PolicyKit authentication dialog? Well, Budgie's made it crystal clear by displaying both the action description and ID. And for those who've had a battle with resizing – that's a thing of the past!
Laptop users, rejoice! The Status applet now lets you swing between different Performance/Power profiles. Whether you're a 'Balanced' kind of person or you lean more towards 'Power Saver' or 'Performance', it's all there at your fingertips.
Let's also give a shoutout to Evan Maddock from the Buddies of Budgie team. Thanks to him, managing your trashcan is now a breeze with the third-party Budgie Trash Applet. Talk about user convenience!
But wait, there's a color twist! Budgie's internal theme has seen a fresh lick of paint. The primary accent color has blossomed from the classic Solus blue to a vivacious light green. It's not just a color; it's a nod to nature, greenery, and our feathery friend, the budgerigar.
While Budgie 10.8 is bursting with new features, it's not neglecting the old. A myriad of general improvements and bug fixes have been woven in, ensuring that every corner of the Budgie experience is polished.
Whether you've been on the Budgie journey for a while or you're just considering hopping on, Budgie 10.8 offers an invite into a richer computing world. And trust me, with Wayland and Budgie 11 on the cards, the party's just getting started. It will be available for the typical Linux distributions soon.