Millions of Freecycle users need to change their passwords following a huge data breach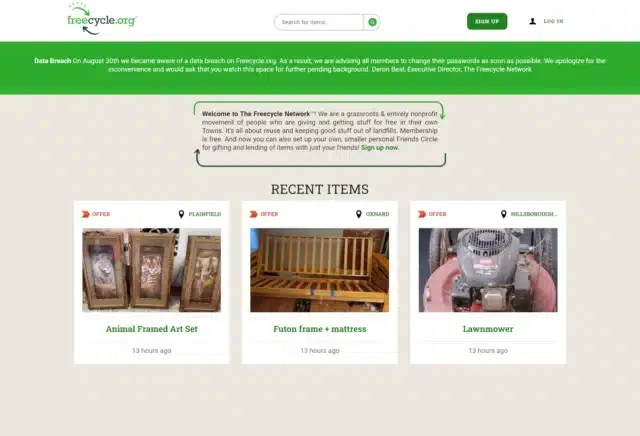 Swap-unwanted-stuff-for-free site Freecycle has acknowledged a security breach that took place at the end of last month. Hackers were able to access a wealth of data including usernames, User IDs, email addresses and passwords.
The organization says that it has notified the "appropriate US authorities" of the incident, as well as the Information Commissioner's Offier (ICO) in the UK. Few details of what happened have been revealed, but Freecycle is advising all members to change their account passwords as a security measure.
See also:
In a notice posted at the top of Freecycle.org, the organization's executive director Deron Beal writes: "Data Breach On August 30th we became aware of a data breach on Freecycle.org. As a result, we are advising all members to change their passwords as soon as possible. We apologize for the inconvenience and would ask that you watch this space for further pending background".
A slightly more detailed post in the support area of the Freecycle site adds a little more flesh to the story:
The breach of data includes usernames, User IDs, email addresses and passwords. Because of the exposure of personal passwords we are taking every measure to quickly inform members about the need to change their passwords. If you have used the same password elsewhere, you are well advised to change the password there as well. No other personal information was compromised and the breach has been closed and is being reported to the respective privacy authorities.
More information is available here.