GNOME 45 'Rīga' Linux desktop environment is released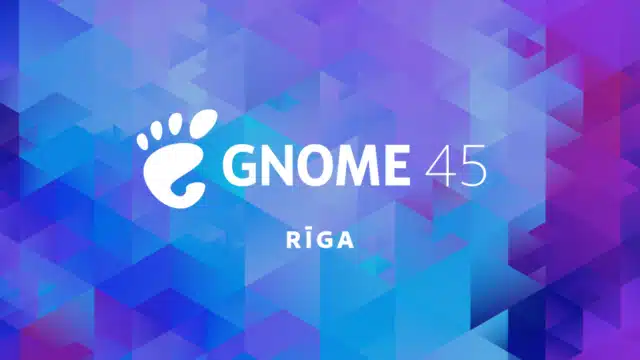 Every year, I eagerly anticipate the latest GNOME releases, and 2023 is no exception. The team behind the GNOME project has once again gifted us a fresh version that promises to refine our everyday digital interactions. I'm excited to share that GNOME 45, code-named "Rīga", is finally here.
One of the most visible transformations in GNOME 45 is the overhauled activities button. Previously labeled "Activities," this button, located on the top bar, has evolved into a dynamic workspace indicator, making its function clearer to newcomers. As we bid goodbye to the old app menu, this revamp makes room for newer designs.
As a power user, the improved search functionality struck me the most. Multiple apps such as Software, Characters, and Clocks have benefited from this upgrade. The faster search combined with reduced resource consumption is an undeniable win.
A commendable addition is the camera usage indicator, seamlessly integrated into the system top bar. This new indicator, complementing the pre-existing microphone one, showcases GNOME's continued commitment to user privacy.
GNOME 45 isn't just about subtle tweaks; it also brings a plethora of new system features:
Enhanced keyboard backlight controls.
A new quick settings keyboard shortcut.
Revamped pointer visuals.
Light system style option.
Stunning new wallpapers.
Enhanced Wayland support for Input Leap.
And most impressively, an improved pointer movement for those multitasking moments.
The fresh default image viewer app is a treat. Fluid transitions, coupled with impeccable zoom and rotation visuals, make image viewing an absolute pleasure. Its adaptability across mobile and desktop is noteworthy.
The new camera app, with its modern UI, seamlessly bridges the gap between mobile and desktop users. Essential features like stills, video capture, and built-in viewing functionality further elevate the experience.
The aesthetic revamp of core GNOME apps is hard to miss. Calendar, Characters, and Files now sport full-height sidebars, adapting beautifully to varying window sizes. Furthermore, many apps have received style upgrades, making the user interface even more intuitive.
GNOME 45 has supercharged the Files app, significantly enhancing the search function. From speedy search results to a broader scope, the Files app is more potent than ever.
User customization reaches a new height with GNOME 45's settings. Whether you're tweaking time and date formats, or ensuring better accessibility, GNOME 45 has got you covered.
The core apps, be it Software, Calendar, or Maps, have all received commendable updates. From smarter UI adjustments to extended currency conversions in Calculator, GNOME 45 doesn't disappoint.
Last but not least, GNOME Circle has introduced six incredible apps, including Telegraph for Morse code enthusiasts and Forge Sparks for the developer community.
GNOME 45 "Rīga" is a testament to the commitment and dedication of the GNOME project. It promises a smoother, more efficient, and aesthetically pleasing experience. The desktop environment should roll out to the typical Linux distributions soon.