iPhone 4 isn't one launch but a series of smaller announcements timed to drive up Apple's stock price

Apple is carefully manipulating its share price by the timing of certain product announcements; iPhone 4 is the clearest, recent example. Not that the manipulation is new. In December I asked: "Are Apple stock price gains the reason for recent tablet rumors?" The answer was an unequivocal "Yes!" based on share price gains aligned with rumors -- and Apple announcements that followed.
To be clear: In asserting manipulation, I don't mean to suggest someone is breaking the law or acting unethically. I liken it to a puppeteer masterfully and artistically moving marionettes across a stage. With respect to its share price, Apple is carefully timing certain announcements for maximum share price benefits, with an artist's -- or, perhaps better stated, a master marketer's -- skill.
If I'm wrong, and Apple isn't showing such manipulation skills, CEO Steve Jobs and his leadership team are just about the luckiest executives on the planet. Their coincidental timing is impeccably beneficial.
I'll start with the future and work backwards. Apple has chosen an unusual day to launch iPhone 4 -- Thursday June 24. The previous launches: original iPhone -- June 29, 2007 (Friday); iPhone 3G -- July 11, 2008 (Friday); iPhone 3GS -- June 19, 2009 (Friday). The other launch dates were all Fridays, but iPhone 4 is Thursday. Now why is that?
From marketing and share price perspectives, the reasons for a Thursday launch are intertwined. I see the previous Friday launches as being logistical and for creating the most marketing noise. Apple got big news bang on Friday, a day many companies typically consider to be a slow news day, and again on Monday -- after announcing the first weekend's sales. There's a kind of box office approach to the timing. The new Apple smartphone is like a blockbuster movie opening, with record sales announced after the first three days. A Thursday launch gives Apple a longer opening weekend and chance to get some share price lift on Friday rather than Monday. After all, everyone expects record sales, and any rush on the stores will feed the news stories and any investor frenzy.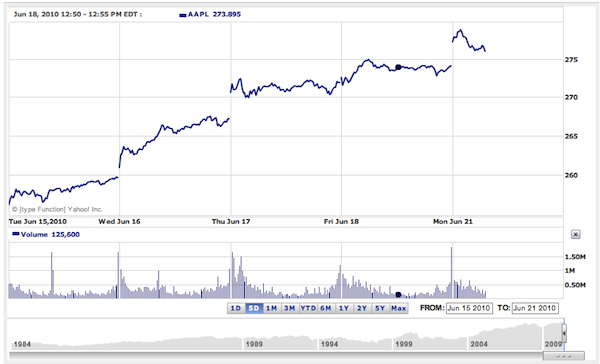 But why should Apple wait until Thursday to get that share price lift or to mitigate potentially negative news stories? Today is iOS 4 release day, and already there is plenty of buzz and there will continue to be through launch day. Over the weekend, people who preordered iPhone 4 started getting shipment notices with timing: "Delivers by Jun 23, 2010." I received one of these e-mails yesterday. So what? People preordering will receiver their phones early? In the past, Apple has chastised package carriers for delivering products before launch date. I'm moving into pure speculation zone here on the date by assuming June 23 is accurate. Some reasons why Apple would want to deliver iPhone 4 early:
It's typical Apple: Promise one thing, but deliver more. Customers who preordered will be thrilled.
With iOS 4 releasing today, June 23 (or even sooner) iPhone 4 deliveries wouldn't disclose much that wouldn't already have been revealed about the new operating system.
Early delivery of preorders will generate blog and news site buzz and get glee-filled customers yammering about their new iPhones.
Assuming customers are allowed to activate their phones before June 24, Apple and AT&T can spread out the activations rather than packing them into one day. That would help to reduce launch-day activation problems and any negative news about them.
All combined, the buzz, the execution and timing are good for generating positive Apple perceptions, thus pushing up the share price.
Apple didn't have to actually launch iPhone to reap the share price rewards. The company started taking iPhone preorders on June 15, and they didn't go well. Apple and AT&T servers simply couldn't meet demand. Let me offer my thanks to the many Apple and gadget blogs that, late-day June 15, wrongly reported iPhone 4 had sold out when it hadn't. After trying unsuccessfully to preorder a phone throughout the day, I gave up. But after reading the reports, I went to Apple Store online and saw the delivers by June 24 date remained. I easily breezed through the ordering process about three hours after nearly every major Apple or tech blog reported the sell-out and availability pushed back to July 2.  I assume the reports slowed down preorders and lightened the server load, allowing me to to easily lock in an order.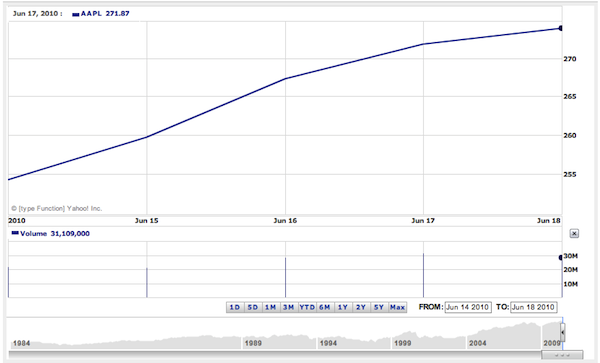 But I digress. On June 16, Apple issued a woo-is-us statement: "Yesterday Apple and its carrier partners took pre-orders for more than 600,000 of Apple's new iPhone 4. It was the largest number of pre-orders Apple has ever taken in a single day and was far higher than we anticipated, resulting in many order and approval system malfunctions." It's the 600,000 -- and ordering glitches -- that got investors going crazy.
Today, Apple shares peaked yet again, reaching $279.01 off a $277.75 open and $274.04 Friday close. Chock the stock's performance to news iPhone 4 preorders shipped with "Delivers by Jun 23, 2010" and, more immediately, release of iOS 4; the release is another carefully timed, progressive announcement aimed at lifting the stock price. Shares moved from $254.28 on June 14 to 267.28 on June 16, with preorders feeding stock price increases. Recent share price rises follow stock declines in the days after Jobs introduced iPhone 4. Perhaps investors wanted more than they got. After all, Gizmodo's stolen iPhone 4 prototype reports ruined much of the surprise. Please review the three charts for more immediate and long-term perspective on Apple's share price performance.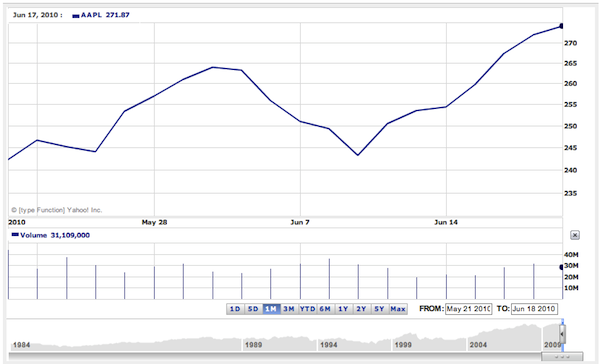 I could keep going backwards -- all the way to my aforementioned December post -- and show how deliberate Apple execution benefitted the share price. Again, I suggest nothing being done wrong -- just the opposite. Other companies should learn from how effectively Apple manages the message, and that's not just for customers but investors, too. The execution is deliberate and well thought-out.
However, challenges are coming. Investors may punish Apple if demand for iPhone 4 far exceeds supply. The company will need to use even more marketing and PR skills to keep the buzz and excitement high enough that investors drink enough "Reality Distortion Field" Kool-Aid to get past any early distribution problems.