Tip: Clone or rescue your hard drive with HDClone 4 Free Edition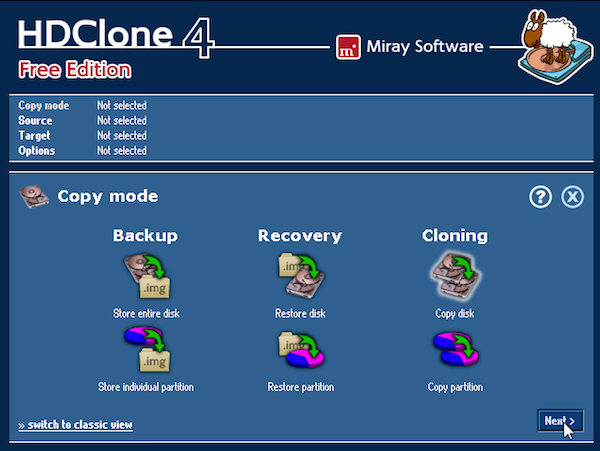 Here's the rub: you want to upgrade your hard drive to a bigger model, but you don't want to go through the rigmarole of setting everything up from scratch on your new drive. Or maybe you've suddenly found that Windows has badly corrupted and will no longer load -- your data is safe on the drive, but inaccessible. What you need to do is back up the drive somewhere safe, then restore Windows before recovering your precious data.
In both scenarios, there are plenty of tools, many of them free like Macrium Reflect Free, for disk cloning and backup purposes. Unfortunately, they all work from within Windows, so what to do? Thankfully, there's a free solution that can be run directly from a bootable CD in the form of HDClone 4 Free Edition.
We'll be honest: the free version of HDClone is quite limited. If you're looking for a tool that works within Windows, choose Macrium. However, when it comes to accessing your drive outside of Windows, then HDClone is hard to beat.
You will need to install it into a working version of Windows first, but once setup, click Start > All Programs > HDClone 4 Free Edition > Create boot medium to create the CD you can then boot from your malfunctioning PC.
Using HDClone
You get three basic options: clone, backup and restore. Use the clone option to upgrade your drive -- if (as is likely) your new drive is larger than your old one, HDClone will automatically resize the partitions to fill the extra space.
The backup and restore options only work on entire physical drives -- you can use it to back up individual partitions -- and unlike other tools, HDClone Free doesn't support any form of compression. That means you'll need a back-up drive or partition with more free space than the entire capacity of the troublesome drive itself.
Backups are stored in the IMG format -- these can be browsed using a variety of tools, including higher end versions of HDClone itself. The Basic version, which comes in at just under €17 (around $24), is one such tool. Check the HDClone website for more details.