What people are saying about Steve Jobs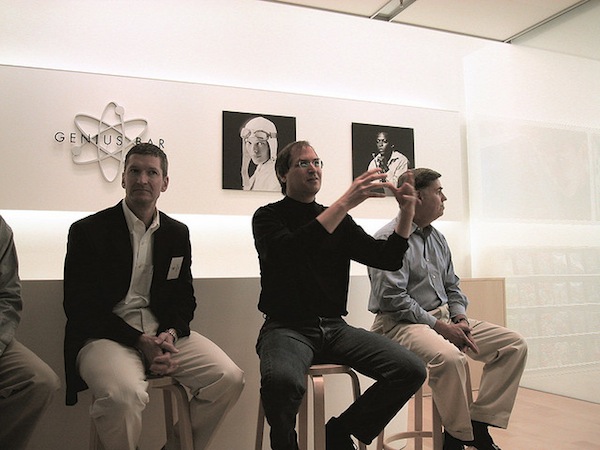 I first met then Apple CEO Steve Jobs in May 2001, during the opening of the first Apple Store at Tysons Corner Center in McLean, Va. Jobs hosted a media gathering a few days before thousands of Mac enthusiasts gathered to be the first customers. Jobs was dynamic and captivating. He made this unbelievable pitch for Apple's Mac market share reaching 5 percent and beyond, a seemingly unattainable goal at the time, with Windows so dominant. A decade later, Apple has accomplished that and so much more.
I'm genuinely sorry to see Steve Jobs' light extinguished from this earth. I offer my condolences to his family, friends and anyone else who loved him. But those words aren't enough, so I've collected others' sentiments -- from blogs, Facebook, Google+ and Twitter. The many can express what needs to be said better than can the one, meaning me.
Before others' sentiments begin, let me make something absolutely clear: Comments to this post will be treated with zero tolerance. This collection of sentiments honors someone beloved by many and who truly positively impacted the lives of millions. Please show your respect by saving snotty or searing comments for another day, another story.
Eugene Kaspersky, founder Kaspersky Lab: "The man who invented the wheel didn't change the world...the man who got a stick and attached two wheels, he changed the world. Steve Jobs, he was the man with the stick".
Steven Levy: "I first met Steve Jobs in November 1983. I was working for Rolling Stone and over dinner he told me about the computer Apple was about to ship -- the Macintosh. That was the first of many interviews I would do with Steve, as I got a firsthand look at how this unique and brilliant man put a major, major dent in the universe. It is with deep sadness that I write his obituary. Goodbye, Steve. You were unforgettable".
Justin Horn: "Can anyone name Founder/CEO from any other company that would have such a personal impact on people after hearing of their death?"
Robin Thede: "I feel like #SteveJobs was the only person keeping SkyNet from taking over. Now the machines will go rogue".
Microsoft Chairman Bill Gates:
I'm truly saddened to learn of Steve Jobs' death. Melinda and I extend our sincere condolences to his family and friends, and to everyone Steve has touched through his work. Steve and I first met nearly 30 years ago, and have been colleagues, competitors and friends over the course of more than half our lives. The world rarely sees someone who has had the profound impact Steve has had, the effects of which will be felt for many generations to come. For those of us lucky enough to get to work with him, it's been an insanely great honor. I will miss Steve immensely.
Walt Mossberg, Wall Street Journal tech columnist: "He was a historical figure on the scale of a Thomas Edison or Henry Ford, and set the mold for many other corporate leaders in many other industries".
Mark Cuban: "The PC era is officially over. #RIP #SteveJobs".
Larry Page, Google CEO:
I am very, very sad to hear the news about Steve. He was a great man with incredible achievements and amazing brilliance. He always seemed to be able to say in very few words what you actually should have been thinking before you thought it. His focus on the user experience above all else has always been an inspiration to me. He was very kind to reach out to me as I became CEO of Google and spend time offering his advice and knowledge even though he was not at all well. My thoughts and Google's are with his family and the whole Apple family.
Alex Grossman: "A true visionary. People are lucky if they get one great business success. Steve had almost more than we can count, each one truly impacting the world we live in today. Business leaders like him come along only once in a generation and he shall be missed. Thank you for everything Steve".
Mark Zuckerberg, Facebook CEO: "Steve, thank you for being a mentor and a friend. Thanks for showing that what you build can change the world. I will miss you".
Fredrik Åkerberg: "Despite the fact that I always disliked many of his marketing strategies and ideas, not to mention his whole company, I cannot deny that he was a great man, that helped the technological development forward. After all, I will never forget the first time I used a Mac, iPod or iPhone".
"Steven, you have left me and millions of other entrepreneurs with nothing but the very best path and leadership skills to emulate. You are forever & more one of the Greats this country has EVER been blessed with", Adam F., CEO, Speedmaxpc.com.
Steve Groner: "I have never owned an Apple product in my life. There is a decent chance I never will. But the effect Steve Jobs has had on my life, and billions of others, cannot be measured. To say we have lost a genius or a visionary does not do him justice. Rest in peace, Steve".
John Hilla: "Apple was blessed with a visionary he took an idea and it blossomed, even so when the very first concept of an iPod pre-existed with the Newton. No doubt his ideas and creation will live on for a long time. To his family and close friends, he touched lives from all walks of the earth. To his rivals, he kept them on the edge making them work harder."
Photo Credit: Joe Wilcox