Intel debuts six-core Sandy Bridge 'Extreme' CPU, Maingear first to launch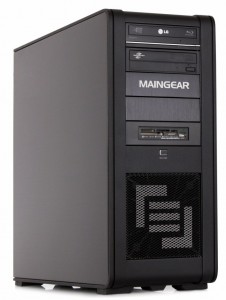 Intel pushed the speed envelope on its Sandy Bridge-based Core processor line Monday, debuting its new six-core Core i7-3960X Extreme Edition flagship CPU. The chip runs at a speed of 3.3GHz, although using less cores through Intel Turbo Boost technology can clock as high as 3.9GHz. In tandem with the announcement, Maingear updated its Shift and F131 systems to use the chips.
Intel markets the 'Extreme' lineup of chips to enthusiasts: hardcore gamers, programmers and the like. These consumers will pay a premium for their hardware and expect flexibility. Intel provides it through unlocking, allowing the enthusiast to overclock.
The 3960X requires a X79 chipset-compatible motherboard with an LGA2011 socket. Those motherboards cost between $250 and $450 depending on manufacturer, adding considerable cost to what is an already pricey chip at $1,050. Intel is offering a slower model -- the Core i7-3930K -- at 3.2GHz with 12MB of cache (the 3960X has 15MB). That model retails for $550.
Users will also need some type of cooling system, as Intel is not shipping any integrated cooling system with the chip. It recommends its in-house liquid cooling solution, the RTS2011LC, which retails for about $100. In other words? If you want power, be ready to pay for it.
"Remember these numbers: 3930K, 3960X and X79 because if you are a serious gamer and/or computer enthusiast into photo, video or music creation you are gonna want one", Intel senior technical marketing engineer Donald Bowden says.
The first manufacturer to use the new 3960X in a commercial system is Maingear. The company said Monday that it is updating its Shift and F131 systems to use the new processor. The cheapest option is the F131, retailing for $2,712. It includes the 3960X processor, 8GB of DDR3-1600 memory, NVIDIA GeForce GT 440 1GB GDDR3 graphics card, and 1TB hard drive.
The processors are available through retailers such as Newegg.