Boxee begins cord-cutting Live TV USB dongle preorders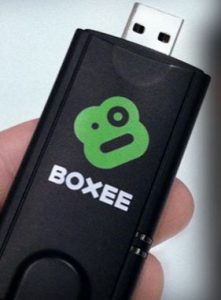 Boxee confirms it is working on an USB dongle add-on for its Boxee Box set-top box that allows an antenna to be connected to the device to recieve "over-the-air" HD television signals. Pre-ordering opens Wednesday in the United States and Canada for $49, and the dongle will ship in January.
Those with unenecrypted basic channel service -- called clearQAM -- would also be able to connect the cable to the Boxee Box device. Either way, the set-top box itself still requires an Internet connection in order to use the signature functions of the Boxee service.
"If you are like us then the way you watch TV has changed", CEO and founder Avner Ronen says. "You end up watching less traditional TV, but continually pay more for it, which doesn't make much sense". Ronen talks up the benefits of OTA digital television, but of course, one needs to be within range of the television transmitters in order to get the maximum benefit.
Users of Boxee's Mac and PC based platforms are currently incompatible with the dongle, Boxee says. The company didn't indicate plans to support it, even though an update for the desktop version is due in the coming months.