Apple iPhone violates airline's no-smoking policy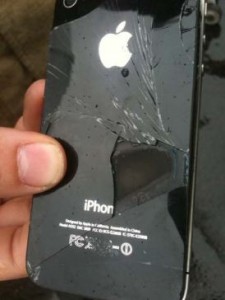 It brings new meaning to Black Friday.
Three days ago, airline Regional Express dropped a press release about a passenger's cell phone "emitting a significant amount of dense smoke, accompanied by a red glow". That must be air industry lingo for fire. That's a word you don't want to hear aboard jetliners in flight. Running for the exits could be worse. Of course, no airline wants to admit to flaming anything inside one of its cabins. The smoker was an iPhone, by the way. Can you tell from the photo whether it's the 4 or 4S? The incident occurred on a flight from Lismore to Sydney, Australia -- yes, on Black Friday.
"In accordance with company standard safety procedures, the flight attendant carried out recovery actions immediately and the red glow was extinguished successfully", according to a Regional Express statement. In other words, he or she put out the fire! No one was harmed in the incident, according to the airline, which claims to be Australia's largest independent carrier.
My colleague Tim Conneally spotted the press release, but he didn't want to write the story. But I asked, pleading "I'll be called anti-Apple" -- again. Since many readers will do just that in comments anyway, they should have reason. So here's one: I propose that the aviation administrations and airlines the world over ban iPhones on all flights. The reason: Non-removable batteries, which sometimes smoke and glow. ;-)