Vimeo apps now available for most mobile platforms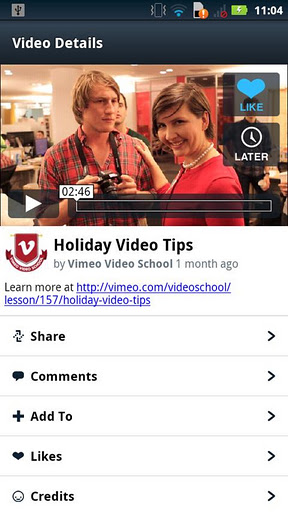 Move over YouTube. Vimeo is finally making its big mobile splash, and it's way, way overdue. The online video pioneer has ceded too much to Google and, by comparison, latecomer YouTube for too long. Today that changes, with new mobile apps for Android, iPad, Kindle Fire and Windows Phone. Vimeo released an iPhone app 10 months ago.
I downloaded the Android app to Galaxy Nexus and XOOM LTE early this afternoon and must say that I'm impressed. The app is well-organized for video discovery -- much better than YouTube. Not surprisingly, the options are viewing/uploading and options are better for the tablet than the smartphone. Overall, the user interface is clean, uncluttered and responsive.
"With the widespread accessibility of high-quality video on mobile devices and high-speed mobile Internet access, people use their mobile devices not only to watch video but to shoot and then upload video to share online", Joe Schmitt, Vimeo's lead mobile developer, says. "With mobile devices making up approximately 15 percent of our site traffic, we recognize the importance of expanding our platforms to allow people to access Vimeo from as many devices as possible".
The Android app requires Gingerbread or above, and I found no problems in quick demo on Ice Cream Sandwich. Features, as Vimeo posted to Android Market:
The whole Vimeo experience

Watch and manage all your existing Vimeo videos and download them to your camera roll
Quickly search for videos on vimeo.com
Easily upload your raw footage in HD
Pause and resume uploads
Replace existing videos
Edit title, description, tags, privacy and credits
Share with Facebook, Twitter, Email or SMS
Add your clips to your Groups, Channels and Albums
Stats on daily plays, likes and comments

Lots to see

Watch videos from your Vimeo inbox, Watch Later queue, or videos you have liked
Easily like, comment and add videos to your Watch Later queue
Discover new and interesting Featured videos
Video camera integration on my Honeycomb tablet impressed me. Overall, there's lots to like here. The new Vimeo apps come on Day 0 of Consumer Electronics Show 2012. First full day is tomorrow.