Leap, the 'pocket Kinect' for PC attracts 26,000 interested developers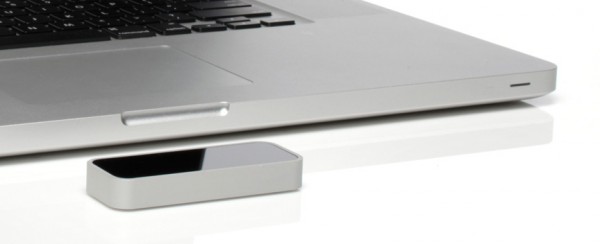 In May, San Francisco startup Leap Motion announced Leap, its pocket-sized 3D sensor designed to bring Kinect-like controls to notebook computers. At the time, the company said there would be "thousands" of free developer kits for interested developers who wanted to participate in the developer program. Today, the company has come forward with some numbers to show how staggeringly high interest is in the little peripheral.
Twenty six thousand (26,000) developers in 143 countries and all 50 U.S. states registered to be in Leap's developer program. A remarkable 15,000 of those requests came in the first week of the program's existence.
To become part of the developer program, registrants had to show Leap Motion some of their past work, and let them know what type of applications they planned to develop with the device.
Most developers (14 percent) said they were going to develop games, and 12 percent said they would be developing music and video tools, 11 percent said their application would fall into the art and design category. Science and medicine apps came in at 8 percent, robotics apps with six percent, Web and social apps also made up six percent, and finally education apps closed out developer categories with four percent. More than 90 percent of developers said they would sell their applications through the not-yet-in-existence Leap Motion store.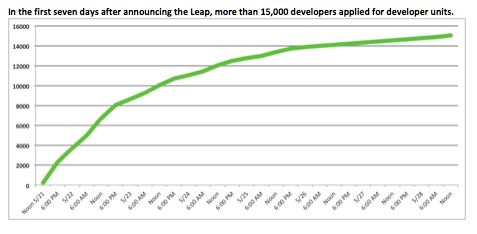 One of the great chicken-or-egg dilemmas of the app store era is: Do users follow developers or developers follow users? Leap Motion has shown that there's a significant amount of developer interest in Leap, but it hasn't disclosed how much consumer interest there is just yet. The product is undoubtedly slick, and a portable 3D user interface is extremely desirable, but it is possible and entirely plausible that everybody just flocks to the site in hopes of getting a free developer unit. Still, even if only a fraction of the interested parties are real developers who are capable of publishing a complete piece of software for Leap, it has potential to draw lots of paying customers. The company is now accepting pre-orders for Leap which costs just $70 plus shipping and handling.
Units are expected to ship in early 2013, with the first batch expected as early as February.