Why not just wait for Windows 8?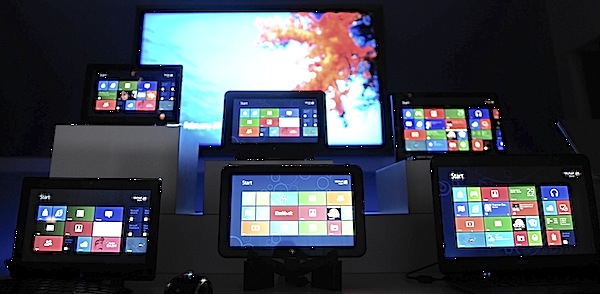 Microsoft is starting to make good on its Windows 8 Pro upgrade offer -- $14.99 for new PCs running the current version purchased between June 2 and January 31. Today, registration opened, for redemption when Windows 8 ships on October 26. PCs running Windows 7 Home Basic, Home Premium, Professional or Ultimate qualify for the upgrade, for which registration must be completed by February 28.
While the program arguably is a benefit to Windows 7 PC buyers, Microsoft also double-dips licensing revenue. For back-to-schoolers who can't afford or don't want Macs (or Chromebook, not to be forgotten), Windows 7 is the only real choice. In another universe -- perhaps far removed from this one -- Microsoft shipped Windows 8 in time for these shoppers. But not here. (Perhaps in yet another far-flung reality Microsoft shipped, keeping with Mayan prophesies, Windows 2012 EOW -- End of World -- edition.)
Microsoft holds back no stops on availability -- "140 countries worldwide, with 37 supported languages and 23 supported currencies", product evangelist Brandon LeBlanc blogs. That's fine, but why make Microsoft go to all that trouble when you can just wait?
Call me old-fashion, but I would much rather buy a real Windows 8 PC than hack the OS onto Windows 7. Unless Microsoft has some secret sauce that removes all the crapware installed by OEMs -- as a hidden, free bonus -- I can think of few reasons why not to wait for Windows 8. You get a fresh image and drivers all optimized for Windows 8 and running the newest hardware. Then there are the new designs, primped out for the holidays -- maybe even a touchscreen or convertible model or two to pump your blood pressure.
Come October 26, your Windows 7 PC purchased today, tomorrow or next week is going to feel all so old. While others revel in early adopter euphoria, you will choke back disappointment.
Then there is Surface, running Windows RT, and no one outside Microsoft's inner circle knowing what it will sell for, all while rumormongers claim $199. I can't figure out if:
The Apple Core is behind the $199 parade, knowing rumors proved false will unleash backlash and disappointment, or...
Hopeful thinking runs amok, as the rumor is so-oft repeated everyone assumes it must be true (like "Beam me up, Scotty", which is popular misbelief), or...
Microsoft is doing the pricing equivalent of the lawyer's trial balloon to see what sticks, or...
Someone tapped a real inside source, and Microsoft is ready to sell for two-hundred bucks.
I wouldn't want to spend big money on a new Windows 7 PC and another $14.99 now only to find out that Surface is cheaper and good enough (Hey, Office 2013, baby) down the road. That while ignoring pure-Windows 8 heart-causing palpitations PCs shipping in about two months.
Why not just wait for Windows 8? Aside from students needing new PCs now, I can think of few good reasons why not to wait. And you?