MaxMax stops maximized windows covering your whole screen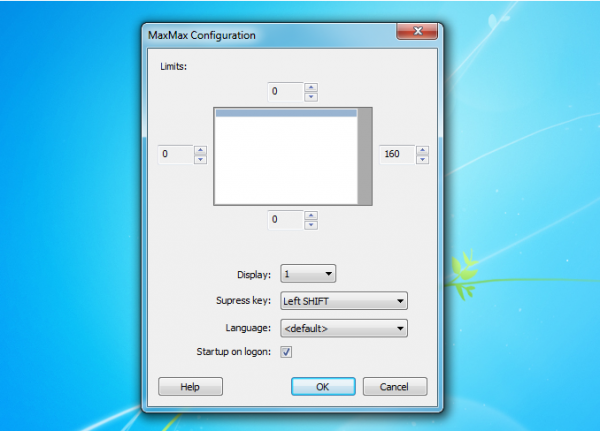 Maximizing a window on your PC is great when you want to focus on a particular program: it allocates all available screen real estate to that application, and removes any distractions as well.
What if you want to have easy access to some other content, though? Launchers, maybe. Sticky notes. Or maybe you'd like to continue monitoring real-time information such as share prices, or eBay auctions. Maximizing other applications may hide this -- unless you get a little help from the free MaxMax.
The program is a simple tool which allows you to configure margins which a maximized window will no longer cover. And you can see this right away, as by default it sets a 160-pixel margin on the right-hand side of the screen. Just launch MaxMax, maximize any window and you'll see it no longer fills the screen completely.
To customize this for yourself, right-click the MaxMax system tray icon and click Configure. You're able to set your margin to any screen edge (or all of them, if you like) and size, although of course it's probably a good idea to keep this as small as possible (losing screen real estate can often be a real nuisance).
All this seemed to work very well, in our tests. The regular applications we tried ran happily with their reduced window sizes. And MaxMax doesn't seem to interfere with programs which have to run maximized (games, say).
If you do have problems, though, MaxMax can be temporarily disabled with a hotkey. And an Exclusions list allows you to specify processes which should be allowed to maximize as normal.
We're still not sure this is an ideal solution. If you want to keep an eye on share prices or other real-time data, say, our preferred option would be to choose an app which you can set to stay on top of all other windows, so maximizing won't be a problem.
If that's just not practical for you, though, MaxMax does provide a quick and easy way to create maximize-proof margins on your PC, and that may make it worth a closer look.