Want to know what's new in Windows 8.1? Microsoft releases a 52 page guide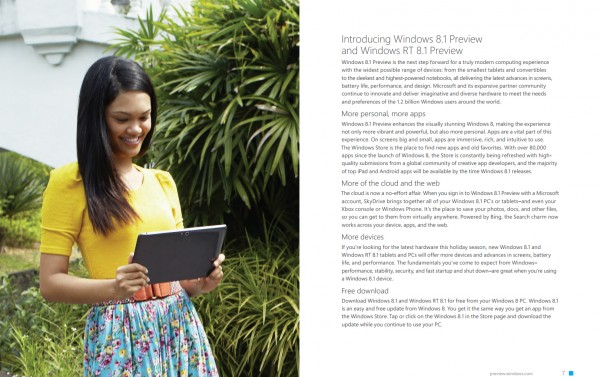 On 26 June, Microsoft rolled out the highly anticipated Windows 8.1 Preview, making it firstly available through the Windows Store, and then as ISOs a day later. The Windows refresh has a lot of new features, besides the new Start button, and to help sell the product Microsoft has created a PDF guide.
Called "Windows 8.1 Preview Product Guide", the PDF starts with an overview before going through the features on offer.
Although the pages are numbered from one to 52, the guide is presented in double page spreads, so there's actually only 27 pages to read through. In those pages Microsoft touches on the new features, rather than expressly showing what they are and do -- this is essentially a sales brochure not a how-to guide -- but if you've missed some of the changes, the booklet will point them out.
The PDF showcases the enhanced searching experience, improved personalization, better SkyDrive integration, and Internet Explorer 11. It also pushes the work angle, with sections devoted to collaborating with Office 365 and SkyDrive. There's a section headed "Windows devices and services for business" which looks at managing personal devices, and the enterprise grade security offered by the OS.
Coming off the back of Build there's even a section on "Building Windows Store apps".
It's an interesting read, although if you already know a bit about what's new in Windows 8.1 you may not learn an awful lot from it. You can download the guide here.