Apple updates iMac range with four new models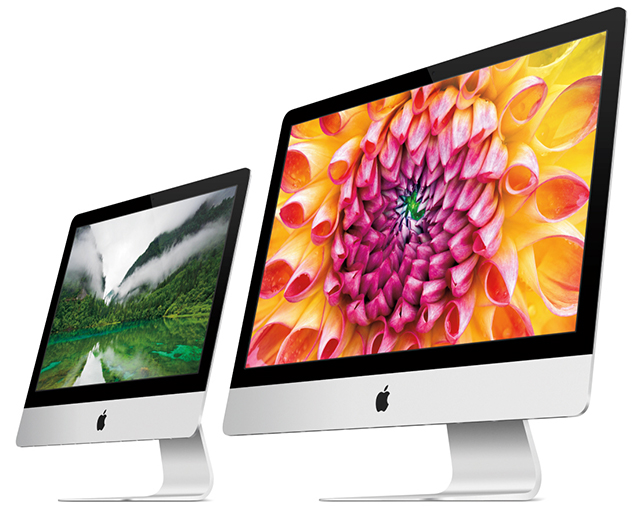 We're delighting in iOS 7 (mostly) and enjoying our new iPhones. Thanks Apple! As if this wasn't enough, there are now new updated iMacs coming out from the Cupertino, Calif.-based tech giant. All told, there are four new models: two 21.5-inch and two 27-inch variants, with entry-level and high-end versions of each to choose from.
All four iMacs feature updated quad-core Intel Core i5 processors, and graphics and Wi-Fi have also been enhanced. With support for next generation 802.11ac, wireless performance is improved by up to three times. There's also support for faster PCIe-based flash storage, with a claimed speed boost of 50 percent. Graphics performance has been improved across the board with new chips from Intel and NVIDIA to be found throughout the range. No sign of Mavericks yet; the new iMacs are supplied with Mountain Lion.
Those specs and prices in full? The entry-level 21.5-inch iMac has a 2.7 GHz CPU (with Turbo Boost up to 3.2 GHz) and Intel Iris Pro graphics for $1,299. Moving up a notch, there is also a 21.5-inch model with a 2.9 GHz processor (Turbo Boost speeds up to 3.6 GHz) and NVIDIA GeForce GT 750M graphics for $1,499. If you need a bigger screen you have the two 27-inch models to choose between. The cheaper of the two, at $1,799, features a 3.2 GHz processor (Turbo Boost speeds up to 3.6 GHz) and NVIDIA GeForce GTX 755M graphics, while $1,999 increases the CPU to a 3.4 GHz chip with a Turbo Boost speed of up to 3.8 GHz.
All four iMacs come kitted out with 8GB of RAM and a 1TB hard drive as standard, but this can be increased to 32GB and 3TB respectively. The new range is available to buy through the usual channels, with additional options to be found at the iMac store.