Windows 8 App Remover promises to get rid of unwanted Microsoft pre-installed apps -- kind of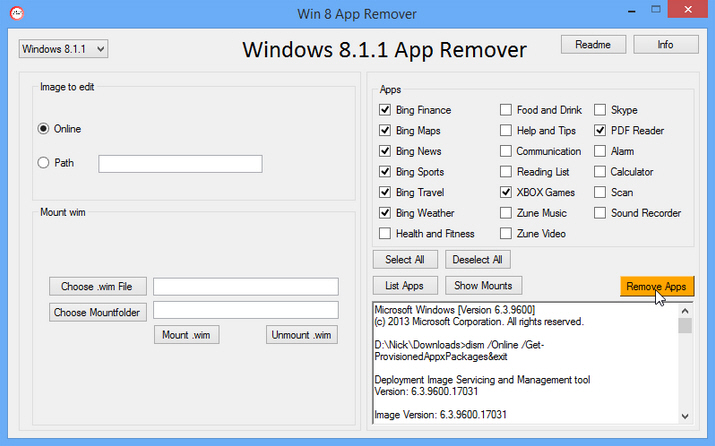 It's bad enough removing all those programs your PC manufacturer "thoughtfully" chose to include on your Windows 8 PC, but now it feels like Microsoft is at the same game. If you're hankering to trim back the number of Modern UI apps pre-installed with Windows 8 or its immediate successors, then you need Windows 8 App Remover.
This tiny 220KB portable program acts as a graphical front end for a Microsoft tool -- dism.exe -- that does the hard work of getting shot of the files in one go, making it a much easier job than removing them individually or grappling with command-line parameters.
The app is only designed to work with a clean Windows 8 install or the compressed .wim images used in Windows rescue and install media. The clean install criteria is a critical point -- if you use it on a system that's not brand new, you'll find that while Win 8 App Remover claims to have deleted apps, they're still present on your system. That's because the apps have been updated since installation (multiple copies are kept in the WindowsApps folder) and it appears that the dism tool is only capable of removing the original version.
If this isn't a deal-breaker, fire up Windows 8 App Remover -- no installation required -- and you'll be presented with its simple, relatively easy to understand user interface.
By default the app is designed to remove unwanted Windows 8 Apps directly from your current -- termed "online" -- installation, but advanced users can also use it to remove them from compressed Windows image files (in the .wim format), thus ensuring future reinstalls don't resurrect the unwanted apps again.
However, for most people, getting shot of these apps from their current installation is more than enough. To do this, first select your version of Windows 8 -- plain vanilla 8, 8.1 or 8.1.1 (Windows 8.1, Update 1) from the drop-down menu. Next, click the List Apps button and wait.
After a short pause, all available apps will appear, non-grayed out. You can now select those you don't want to keep or click Select All to get shot of the lot before clicking the Remove Apps button. Click Yes and the app is removed (and grayed out).
You'll be warned that this is a one-way trip only -- you can't reinstall the app once it's gone. That's not strictly true: you can easily restore the app using the Windows Store should you later change your mind.
If we're honest, we suspect this tool is going to be of most use to those wanting to create a customized Windows install disc that will simply skip these apps during installation, but there may be limited scope for it if you've literally just reinstalled Windows and want shot of some or all of those apps asap.
Windows 8 App Remover 0.55 is available now as a free, open-source download for PCs running Windows 8 and 8.1. Version 0.55 adds compatibility for Windows 8.1 Update.