ARCHOS announces the ArcBook -- an affordable Android-powered laptop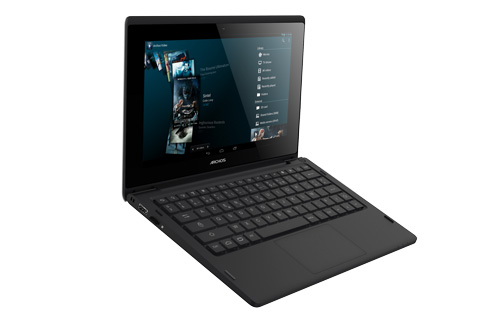 Android is a mobile operating system, so many people think of it only for tablets and smartphones. However, it is actually very versatile, and has made appearances on both desktops and laptops too. That said, most Android laptops have proven to be low-quality garbage.
Today however, Archos has thrown its hat into the Android-laptop arena, with the all-new ArcBook. The company calls it an "affordable mobile productivity enhancer". I call it a neat little laptop!
"Available for $169.99, the ARCHOS ArcBook is the ultimate value-packed, on-the-go productivity machine running Android 4.2 Jelly Bean. It is preinstalled with Office Suite Pro 6, making creating and editing Word, Excel, PowerPoint and PDF files easy.
It allows access to all Google services, including the Google Play application store, Google Chrome Web browser and other Google Apps such as YouTube, Gmail, Translate and more. It also comes with 15 GB of free Google Drive cloud storage, enough to store a plethora of documents", says Archos
The manufacturer further explains, "the ARCHOS ArcBook has a 10.1-inch touchscreen with a full keyboard and integrated Android shortcuts keys to maximize typing speed. Connectivity and expandability have been boosted thanks to a full USB host port and it has enough battery power for more than 10 hours of continuous use".
The company lists the following specs:
Storage
• Flash memory: 8GB
Operating system
• ANDROID 4.2, Jelly Bean
CPU/GPU
• RK3168 Dual-Core ARM Cortex A9 @ 1.2 GHz
RAM
• 1 GB
Display
• 10.1 inch capacitive multitouch screen
• 1024 x 600
Video playback
• H.264 up to 1080p resolution – 30 fps
• MPEG-42 – 30 fps
• With the above codecs, the device can play video files with the following extensions: .avi, .mp4 ,mkv, .mov, M2TS and .MPG
Audio Playback
• MP3 , WAV (PCM/ADPCM), AAC3, AAC+ 5.13, OGG Vorbis, FLAC
Photo viewer
• JPEG, BMP, PNG, GIF
Interfaces
• USB host 2.0 to connect external devices
• Audio Jack 3.5mm
• Micro SD slot
Communication protocols
• WiFi
Miscellaneous
• Front camera
• Single touch mouse pad with single button click
• Complete keyboard with android function keys
• 2 built-in speakers
• Microphone
Power source
• Internal: Lithium Polymer battery 8000 mAh
• 5V/2A Power Adapter
Dimensions & weight
• 271.5 mm x 180.5 mm x 22 mm
• 1.28 kg
Computer interface
• 2 x Micro USB 2.0 interface
While this is hardly a top of the line laptop, it definitely has its uses -- especially at a super-low $169.99. Since it has access to Google's Play Store, the sky is the limit as to how much functionality can be squeezed out of the little netbook. I can certainly see this being used as a secondary device. Hell, it would probably work well as a primary device for younger kids.