HTC Desire 820: Not your average mid-range Android smartphone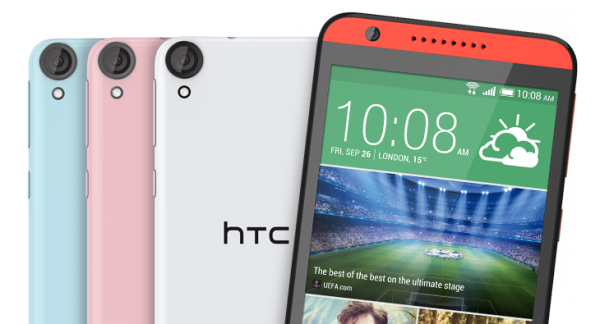 Premium devices got most of the attention at IFA 2014, thanks to their cutting edge software and hardware. But there are some other interesting new products announced at the trade show which warrant a look. One of them is HTC's mid-range Android smartphone, Desire 820.
Desire 820 may not be as exciting as, for instance, Galaxy Note Edge is with its curved edge display, but it gives us a sense of what the future of Android hardware looks like. I'll give you a hint -- it's not 32-bit. Desire 820 is among the first smartphones of 2014 to be unveiled with a 64-bit processor, Qualcomm's powerful Snapdragon 615.
When it comes to sheer processing power, Desire 820 tops HTC's first 64-bit smartphone, Desire 510, which uses a mere 1.2 GHz quad-core Snapdragon 410 processor with 1 GB of RAM, with its octa-core solution, which is comprised of four cores running at 1.5 GHz and the other four running at 1 GHz, alongside 2 GB of RAM. Whereas Snapdragon 410 is more conservative with its setup, Snapdragon 615 is definitely taking things to the next level. For a mid-ranger, that's something worth pointing out. The battery is a 2,600 mAh unit.
Desire 820 features a 5.5-inch IPS display, with a resolution of 720 by 1,280, which is typical of devices in this range, although HTC could have gone with a higher resolution considering the size of the screen. It comes with 16 GB of internal storage, but also a microSD card slot which can extend the capacity by a further 128 GB.
On the back, there's a 13 MP camera with a wide-angle lens (equivalent to 28 mm in full-frame terms) and a large f/2.2 aperture. It can take 1080p video. On the front, there is an 8 MP (yes, that's eight megapixels, as much as the iPhone 5s' main camera boasts) shooter, which is also capable of 1080p video. Playback should be a more upscale experience, thanks to HTC's BoomSound technology, which sees two front-facing stereo speakers being employed.
"Our new HTC Desire model gives entertainment lovers exactly what they are looking for; a powerful, fast, stylish smartphone that delivers their favourite content on a big screen at a competitive price", says HTC CEO Peter Chou. "With the HTC Desire 820, we've combined the most advanced technology with the best possible entertainment experience and bold, distinctive design to deliver a handset that is both desirable and affordable".
Desire 820 also plays well with 4G LTE cellular networks, Wi-FI 802.11 a/b/g/n and Bluetooth 4.0, and offers all the other typical hardware features you have come to expect out of a mid-range smartphone in 2014. HTC doesn't mention which Android iteration Desire 820 runs. It comes in at 157.7 x 78.74 x 7.74 mm and 155 grams.
Desire 820 will be available, in Marble White, Milky-way Grey, Santorini White and Tuxedo Grey, later this fall. There is no pricing information at this point.