HTC unveils its first 64-bit Android smartphone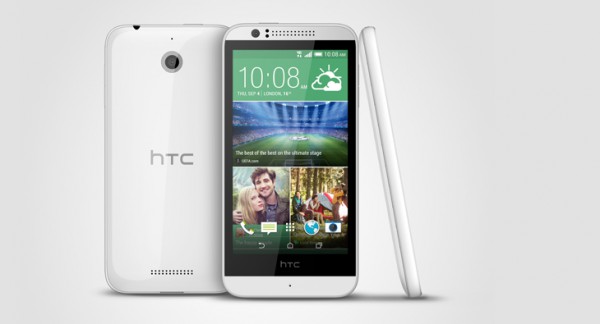 Apple started the 64-bit smartphone craze in September 2013 with iPhone 5s. It was the first 64-bit device of its kind to reach store shelves and, even now, it continues to be unrivaled in this regard by competing flagships. That's because other vendors could only use 32-bit high-end processors from major chip makers like Qualcomm and Nvidia.
While that has yet to change, other 64-bit smartphones, targeting a less demanding crowd, are on their way as, today, Taiwanese maker HTC announces its first 64-bit smartphone, touted to bring "super-fast LTE connectivity at an affordable price point". It's called Desire 510.
For some strange reason, HTC makes no mention of announcing its first 64-bit Android smartphone, or one of the first 64-bit Android smartphones (if not actually the first), even though the 1.2 GHz quad-core Qualcomm Snapdragon 410 processor is based on a 64-bit architecture. But, that may not be an advantage worth pursuing. The chip was designed to power devices costing less than $150, according to its manufacturer, and is Qualcomm's first-announced 64-bit processor. (A whole lot of firsts here.)
That said, HTC makes no mention of Desire 510 being offered at a price point lower than $150. I believe it will cost more. Based on its specifications, it is a low-end Android smartphone, albeit one with more power than the usual cheap offering running the open-source operating system.
"The industry has been talking about the 4G effect for so long now that it's easy to forget that only a small selection of top-end devices are taking advantage of the technology", says HTC CEO Peter Chou. "Owning the latest and greatest technology shouldn't be reserved for those with the highest budgets. People today should expect their smartphones to double as mobile entertainment hubs. This means ensuring that they're fully loaded with the latest movies, TV shows and albums, by taking advantage of the super-fast network speeds available. The HTC Desire 510 does this and more, making it the perfect mobile media device".
Desire 510 packs a 4.7-inch display with a resolution of 480 by 854, has 1 GB of RAM, and a 2,100 mAh battery to power it. It features a 5 MP main camera and a 0.3 MP secondary one, which is typical of low-end devices. Inside, it has 8 GB of internal storage and a microSD card slot, the latter of which can extend the capacity by a further 128 GB.
Connectivity-wise, on top of 4G LTE cellular network support, it adds Wi-Fi 802.11 a/b/g/n and Bluetooth 4.0, as the main highlights. It goes without saying that there is GPS functionality on board, and that the usual array of sensors is present.
Desire 510 comes in at 139.9 x 69.8 x 9.99 mm and weighs 158 grams, which makes it fairly bulky and heavy for a device of its display size and battery capacity. Available color trims are Terra White and Meridian Grey. It gets HTC's Dot View cases as optional accessories.
Desire 510 runs Android 4.4 KitKat, customized with HTC's Sense user interface. The latter adds interesting software features like HTC BlinkFeed, which is a Flipboard-like app, and a lovely look throughout.
It will go on sale later down the road in Europe and Asia, as well as US.