Google Fiber expands, new markets on the horizon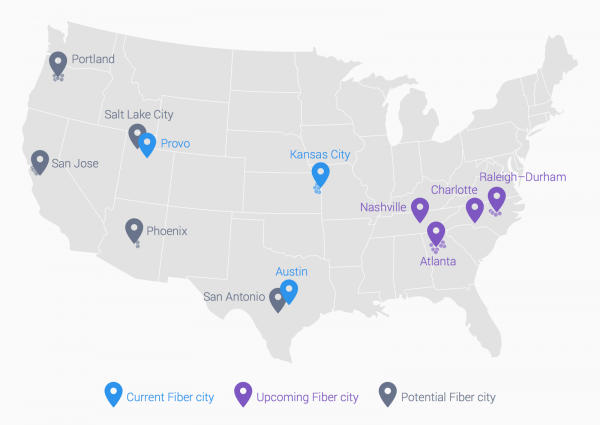 Everyone wants access to high-speed internet, as it seems to feel like a human right these days. Sadly the US lags behind other nations in this department, but things are slowly improving, thanks in large part to Google introducing its own broadband in the form of Google Fiber.
That offering is now expanding to new markets, with Google announcing four locations set to have their internet speeds increased dramatically. Thus far, the service has existed in Kansas City, Provo, and Austin.
The expansion is set to include Atlanta, Charlotte, Nashville, and Raleigh-Durham. These are metro areas and Google claims they engulf 18 cities, which will get the big upgrade.
"Bringing Google Fiber to these cities is a long-term investment. We've been working closely with city leaders over the past year on a joint planning process to get their communities ready for Google Fiber -- and now the really hard work begins. Our next step is to work with cities to create a detailed map of where we can put our thousands of miles of fiber, using existing infrastructure such as utility poles and underground conduit, and making sure to avoid things like gas and water lines", say Dennis Kish, vice president of Google Fiber. Yes, avoiding those gas lines will be much appreciated.
The company is also looking at five additional cities for its gigabit broadband service. Those include "Phoenix, Portland, Salt Lake City, San Antonio and San Jose, and will have updates on these potential Fiber cities later this year".
No official schedule for any of this was put forth by Google. Certainly these things take a bit of time, but at least knowing it is on the way is a step in the right direction for residents of these areas.