Logitech CREATE Keyboard will make Apple iPad Pro even more amazing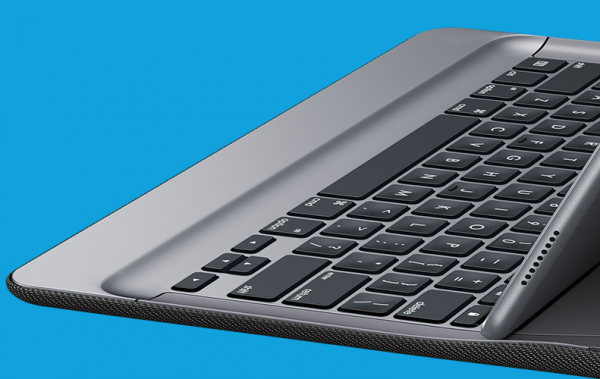 If you watched the Apple event today, you were treated to many amazing announcements. New iPhones are always something to get excited about, but the Apple TV was arguably more interesting -- an inexpensive iOS game console? Holy cow. The star of the show, however, was the often-rumored iPad Pro. Yes, the fabled larger tablet finally made an appearance. It certainly looks like a productivity beast, and companies like Microsoft and Adobe cosigned this notion with cool demos.
While Apple will sell an official keyboard attachment that should be great, expect many third-party options too. Today, Logitech announces that it will offer its own iPad Pro accessory, called the CREATE Keyboard. The company worked closely with Apple on the design, so it should be particularly wonderful. Of course, it uses the new Smart Connector port, and not Bluetooth -- awesome.
"The Logitech CREATE Keyboard Case is going to make your iPad Pro a creativity and productivity powerhouse. The keyboard was built with Apple to perfectly complement the new iPad Pro. And because it is compatible with the new Smart Connector, the CREATE keyboard automatically powers on and pairs with your iPad Pro when placed in the typing position -- no Bluetooth pairing needed. And because the keyboard is powered by the iPad Pro, you never have to think about charging your keyboard again", says Logitech.
The popular manufacturer further says, "the intuitive keyboard layout and full-size keys makes typing easy, and helps you take full advantage of the iPad Pro's expansive workspace and new iOS 9 features. The case offers thin and lightweight protection, and the tightly-woven premium fabric helps resist accidental bumps, scratches and spills".
Unfortunately, Logitech is quite tight-lipped on details. In fact, the only image teased thus far is the one above. Understandably, Apple may not appreciate having its newly-announced keyboard shown up by a third party on the day of its announcement. For now, we must wonder what kind of unique features Logitech has included in its offering. Quite frankly, based on the strength of its existing iPad keyboards, I expect this one to be fabulous too.
The Logitech CREATE Keyboard will go on sale at the same time as the iPad Pro. Will you buy it? Tell me in the comments.