Samsung announces 18.4-inch Android tablet -- but why?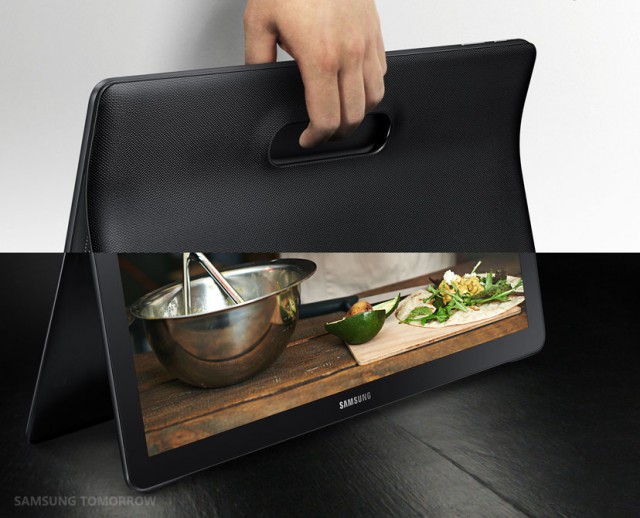 Samsung does not shy away from releasing tablets that consumers might find too big, proof being that, last year, it introduced the 12.2-inch Galaxy Note Pro and Galaxy Tab Pro. Today, the South Korean maker is taking things a step further by announcing an even larger slate, which, this time around, even the most-avid fans of big tablets might struggle to appreciate.
With an 18.4-inch display, the new Galaxy View is heavily optimized for content consumption, dwarfing in size even most large laptops, begging the question if the struggling tablet market actually needs another niche device.
Unlike, say, a Surface Pro 4, Galaxy View is not meant to be a Swiss Army Knife. Samsung says that its new tablet was designed with a "video-centric" interface in mind, severely limiting its appeal. The display is not even all that impressive, with the exception of size, as it has a rather low resolution of just 1,920 by 1,080 (for an 18.4-inch display, that is).
Because it has such a big screen, it is huge. Galaxy View measures 451.8 by 275.8 by 11.9 mm and weighs a whopping 2.65 kg, severely limiting portability. Given those specs, it looks like it belongs on a desk somewhere rather than in a (large) backpack -- further proof of this is the two-way stand.
Battery life is not all that great either, with Samsung claiming that Galaxy View can only offer eight hours of video playback before asking to be charged. Blame the small 5,700 mAh battery for that. Well, at least there is an octa-core 1.6 GHz processor inside, which might help with things like gaming -- however, the 2 GB of RAM might hold it back somewhat.
You should also know it will be available in a 4G LTE version, storage can be expanded from the standard 32 GB or 64 GB using a microSD card, there are two 4W speakers, and there is Wi-Fi 802.11 a/b/g/n/ac on board. Oh, and it runs Android, but we don't know which version.
Right now there is no information about pricing or availability.