How to increase Chromebook volume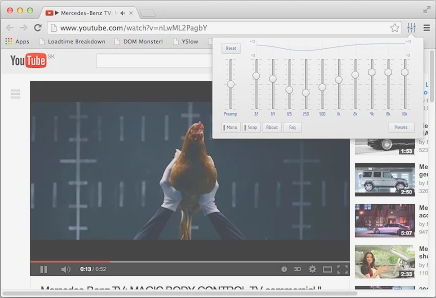 Fast boot times, long battery life, low prices -- there's a lot to like about Chromebooks. But there can also be issues, like the low volume you'll sometimes get from the more feeble internal speakers.
Google for advice and the top hits offer advice like "turn the volume up in Settings", which isn't a lot of help for most users.
One simple alternative is to install an equalizer app. This allows you to boost the volume of part (just the bass, for instance) or the full frequency range, and may get you more usable volume than the player or computer settings alone.
That is, your device volume really might go up to eleven.
Audio EQ looks very ordinary, a familiar preamp plus 10 band EQ. It delivered well for us, though, notably ramping up our Chromebook's weak YouTube volume.
In theory you can save and reuse your preferred settings as presets. Right now the Presets button did nothing for us, and we see others complaining about it too, so presumably a recent Chrome update has broken it. But if you're just after extra volume, that won't matter much, as all you have to do is drag the "Preamp" slider up.
What's more significant is the add-on uses a very simple approach to EQ, which essentially involves replacing HMTL5 audio and video tags. This makes the core functionality very reliable, but also means it only works on HTML5 sites, not with Flash or other players.
Ears is another free equalizer which the author claims works with any audio, on any site -- sounds more promising.
The add-on looks good, too. Click and drag a central line to set your main volume, then drag individual dots around a 2D-space to adjust each filter until you get the effect you need.
Once you're happy, the current settings may be saved as a Preset (yes, that works here).
A Reset buttons restores the defaults if you get lost, and there's a one-click Bass Boost for users who don't want the hassle of this low-level audio tweakery.
Ears certainly wins the battle for feature list length, but we found its results were inconsistent. Sometimes we got a similar audio boost to Audio EQ, but on other occasions it seemed to have no effect, or killed the audio entirely (although clicking Reset always brought it back). If you have a quiet Chromebook, try both anyway -- they made a very audible difference to our test device.