Alcatel IDOL 4S is a VR-ready Windows 10 Mobile smartphone you might actually want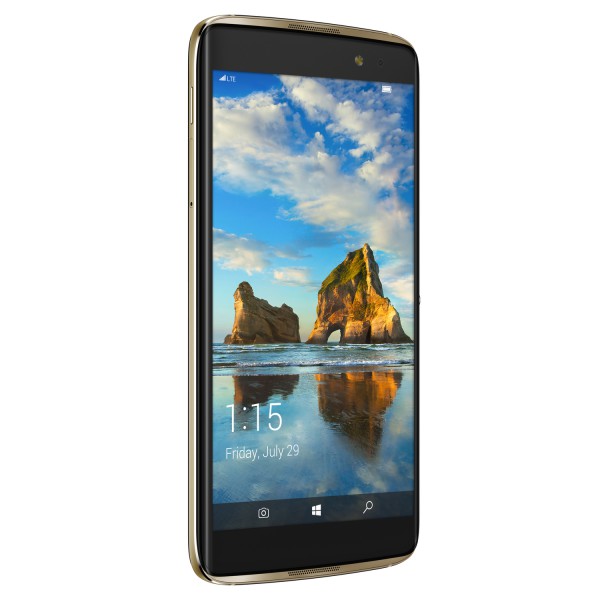 Windows 10 Mobile is a solid smartphone operating system with two big flaws -- lack of both apps and developers. This has lead to such low market share, that many consider Microsoft's mobile operating system to be irrelevant. With that said, not everyone needs a lot of apps. If you mostly do things like text messaging, surfing the web, and accessing email on the go, a Windows 10 device is a brilliantly secure way to do so.
Today, Alcatel officially announces the previously leaked IDOL 4S with Windows 10 (there is an Android version too). Not only is the inexpensive device beautiful, but chocked full of solid specs and wonderful features too. Best of all, it comes with a virtual reality headset in the box!
"The flexible IDOL 4S with Windows 10 is built for professionals, gamers and general tech enthusiasts alike. It comes with a premium dual-glass and metal-framed design and all the productivity features you need, such as Continuum, which puts PC-like productivity right in your pocket. With Continuum, you can connect your IDOL 4S with Windows 10 to a second screen, keyboard and mouse for a seamless desktop experience. A fingerprint reader below the camera allows you to login easily and more securely with Windows Hello", says Elana Pidgeon, Junior Editor, Windows Blog.
Pidgeon further says, "each IDOL 4S with Windows 10 comes packaged with virtual reality goggles included as part of the in-box bundle. The headset is designed so that the phone snaps into the goggles for an user-friendly virtual reality experience where you can play three dimensional games or watch 360 degree videos. When you buy an IDOL 4S, you'll also receive a free 45-day trial for Hulu Plus, an additional 30-day trial for Groove Music and a free copy of the Windows 10 Mobile game Halo: Spartan Assault".
Microsoft shares the following features and specifications.
Windows 10 Mobile, including access to Continuum and Microsoft Office apps
A fingerprint sensor that enables Windows Hello for added convenience and security
In-box virtual reality bundle included
Brilliant 5.5-inch Full-HD (1920×1080) AMOLED display that delivers a great viewing experience, even in direct sunlight
Powerful Qualcomm Snapdragon 820 processor (2×2.15GHz + 2×1.6GHz) with Adreno 530 GPU for smooth multitasking and video processing
21MP main camera with Sony IMX230 sensor + 8MP front camera with 84-degree wide angle lens
3000mAh Battery for up to 20 hours of talk time and USB-C charging featuring Quick Charge
4GB RAM + 64GB ROM (with MicroSD support up to 128GB)
Dual 1.2W multi-directional speaker featuring Hi-Fi audio for a more immersive sound experience
This slideshow requires JavaScript.
If you want to buy the Alcatel IDOL 4S it can be had here on November 10 for a very reasonable $469 on T-Mobile. While this is much more affordable than the iPhone, there are similarly priced Android devices that are very good too. If you want a lot of apps, a phone running Google's operating system is arguably the better choice. However, if you are OK with fewer available apps, and prefer Windows 10 Mobile, this looks like a real winner.