Zorin OS 12 Ubuntu-based Linux distribution now available -- a Windows 10 alternative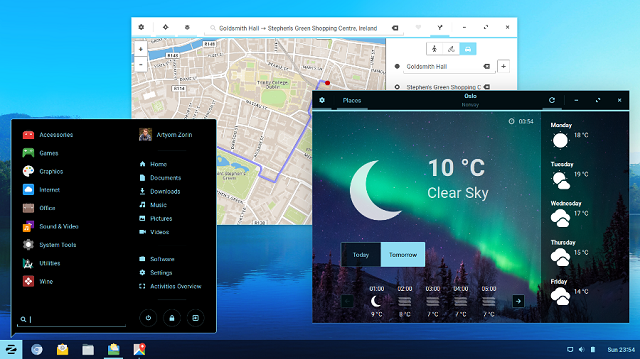 Windows 10 is a really great desktop operating system, but it is not for everyone. For those that care deeply about security and privacy, an open source Linux-based operating system is a wise alternative. The problem? Learning a new user interface can be hard for some. If you have always used a Windows OS in the past, moving to a desktop environment like GNOME or Unity can be confusing and scary.
Luckily, for those that have difficulty with change, there are some Linux-based operating systems that are designed for Windows-switchers. One fairly popular such offering, Zorin OS, has now reached version 12. It is designed to be familiar to former users of Microsoft's OS. While the company does charge for an "Ultimate" version, the "Core" edition of Zorin OS 12 is entirely free.
"Many of the built-in system apps have seen extensive improvements both visually and under the hood. Zorin OS 12 is powered by Linux Kernel version 4.4, which now works with even more hardware and introduces performance enhancements and security improvements. As Zorin OS 12 is based on Ubuntu 16.04 LTS, it will be supported with security updates until April 2021. This makes Zorin OS 12 the ideal choice for large deployments in businesses, governments, schools and organisations", says The Zorin OS Team.
ALSO READ: Apple reportedly kills its Linux-unfriendly AirPort line of wireless routers
The team further says, "with Zorin OS 12, we are introducing a new release schedule going into the future. Major releases of Zorin OS will now be made once every 2 years. In between, a number of point releases will be made that will include incremental updates to the built in apps as well as support for new hardware, security fixes and various under-the-hood improvements. This gives you the optimal balance between the robustness of tried-and-tested technology and the latest and greatest features. By focusing on one release at a time, we will be able to provide the best possible experience to everyone using Zorin OS".

Zorin OS features some really great features, such as Google Drive integration with the file browser. This means Google users can easily access their cloud storage without any confusing setup.
Chromium browser is installed by default, which is really the right thing to do nowadays. Look, I know some folks deeply care about Firefox -- which is available to use too -- but Chromium is just the better offering at this time.
The all-new Zorin Desktop 2.0 DE can be customized to look more like GNOME or macOS too (Ultimate-version only). The desktop environment even features useful gestures, which the team shares below.
3+ finger pinch opens the Activities Overview
4 finger drag (up or down) switches workspaces
3 finger hold & tap switches between apps
If you are ready to download it, you can get the operating system here. If you are new to Zorin, I suggest opting for the free "Core" edition. However, if you find that you like it and want the additional features, the €15 is a reasonably priced way to support the developer.