Apple reportedly kills its Linux-unfriendly AirPort line of wireless routers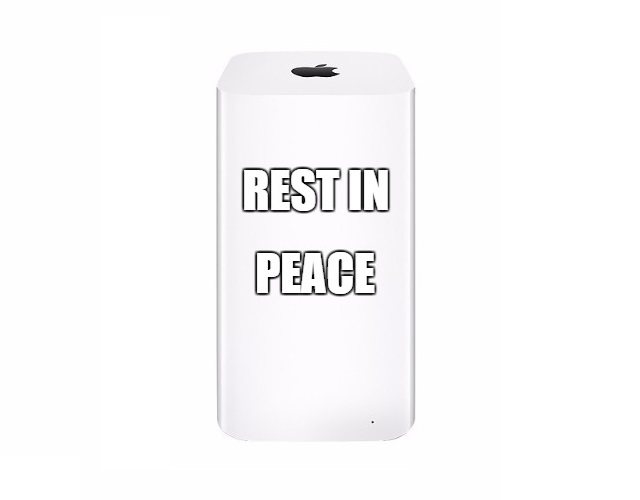 Apple's AirPort wireless routers are iconic -- well designed aesthetically, while being rock solid from a performance standpoint. The company even took an odd approach to management -- an app that was only available for macOS, iOS, and Windows. In other words, it did not use a browser-based web interface like routers from other companies.
The routers' lack of a web UI meant that it could not be managed from Linux-based operating systems. If you owned an Android device, Chromebook, or PC running Ubuntu, you could not change the AirPort settings. Some would argue that a lack of web interface made it more secure, but ultimately, it was a bit of an inconvenience. Linux users no longer have to worry about this snag, however, as -- according to Bloomberg -- Apple is reportedly stopping development of new AirPort routers.
Bloomberg says the following.
Apple Inc. has disbanded its division that develops wireless routers, another move to try to sharpen the company's focus on consumer products that generate the bulk of its revenue, according to people familiar with the matter.

Apple began shutting down the wireless router team over the past year, dispersing engineers to other product development groups, including the one handling the Apple TV, said the people, who asked not to be named because the decision hasn't been publicly announced.
True, Apple hadn't refreshed its line of AirPort devices in years, but some folks -- including yours truly -- were hoping to see a new model in 2016. When the MacBook Pro event came and went without mention, all hope went out the window. It was a very sad moment for fans of the router line.
Even as a Linux user, I enjoyed owning an 802.11ac AirPort Extreme. Even though I couldn't manage it from my Ubuntu machine, my iPad could handle it brilliantly. Not to mention, how often do you really need to access those settings? More importantly, the beautiful appearance allowed me to display it in my living room -- it looked like art, not an ugly tech device like other routers.
ALSO READ: NETGEAR Nighthawk X10 AD7200 802.11ad Smart WiFi router (R9000) supports Plex and Amazon Drive
Some will argue that Apple's AirPort routers were too basic from a feature perspective, and yeah, it was lacking in that regard comparatively. With that said, I would argue that many modern third-party offerings have too many features for the average home user, lending to a confusing experience. AirPort made things easy.
Maybe all hope is not lost, however, as famed blogger John Gruber says the following.
The question is, are they really out of the router game (and will start selling Berlin or Eero routers in their stores), or are they working on something new, a HomeKit hub, that will include the functionality of a router?
Interesting thought by Gruber. It is certainly a possibility, as Bloomberg says some of the AirPort engineers have been assigned to Apple TV. A single device that handles the duties of a router while also serving as a media and home hub could be wonderful.
Will you mourn the death of AirPort, or do you not care? Tell me in the comments.