Yahoo, SanDisk Team Up Against iPod

Yahoo is joining the ranks of Microsoft and others in attempting to unseat Apple's venerable iPod by teaming with SanDisk on a new Wi-Fi enabled Sansa MP3 player. The device will retail for $250, and includes a 2.2-inch color LCD screen and a capacity of 4GB.
Although it's not the first portable music player to boast Wi-Fi connectivity, Yahoo and SanDisk are making the feature more useful. Unlike the Microsoft Zune, the Sansa Connect would be able to directly download songs from the Internet and stream Internet radio.
The connectivity software that powers the Sansa Connect's key features was developed by Zing, a Mountain View, Calif. start-up co-founded by Tim Bucher, a former Apple executive who played a key part in the iPod's development.
"My sixteen year-old daughter has a Zune, goes to a high school with 3700 kids, and has never once encountered another person with a Zune, shared music, or even used the Wifi functionality on the device," Yahoo! Music's Ian Rogers wrote Monday.
"Welcome to the social? It's 2007," he mused. "How about welcome to the Internet. Duh."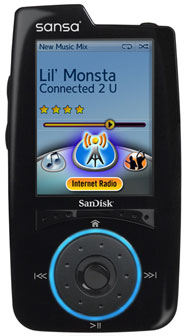 In addition to the downloading of songs, a Sansa Connect user would be able to view their photos online from Flickr, and share music with users of Yahoo! Messenger even if they don't own the device.
While sources insist that the Zune will eventually sport similar features, they have not yet appeared. However, in an increasingly competitive market, new entrants must define themselves quickly or risk being lost in the crowd.
Of any of the MP3 player manufacturers, SanDisk has shown the most promise in competing with the iPod. Its players are #2 to Apple with about a nine percent market share. Apple currently holds a 73.7 percent market share, according to February data from NPD Group.
Yahoo will offer a subscription service for the Sansa Connect player for $11.99 USD per month, which would allow users to download unlimited songs from the Yahoo! Music Unlimited catalog.
Analyst reaction to the player seems mixed. Internet pundit Om Mailk called the player a "marriage of convenience."
"Zing, despite the buzz hasn't exactly proved to be David Wright of Consumer Electronics," he wrote for GigaOm. "And Yahoo, well their music efforts have come in fits-and-starts. The only winner in this deal is SanDisk - it manages to sell flash memory at premium prices instead of being stuck with commodity pricing."