Sony Shows Off Paper-Thin Color Display

Sony debuted an innovative new bendable 2.5-inch display, one that is less than 0.01 inch thick -- not much thicker than a piece of paper -- and can display full-color video.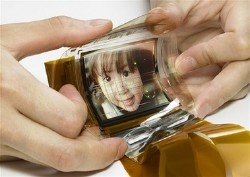 The Japanese electronics maker released video of its latest innovation on Friday, showing the flexibility and capabilities of the display. Sony isn't quite sure how it will be used, but it could have a variety of applications.
Displays could be integrated into signs and advertisements, or worn like clothing. The displays could even help today's multimedia playback devices shrink even further. No commercial applications have been officially announced.
Sony researchers say that the screen is virtually unbreakable, and the elasticity of the device is what makes it so innovative. Neither LCD nor plasma screen technologies in their current form can reproduce the display's characteristics.
Paper-thin display technologies are nothing new. A host of other companies are working on such projects for a variety of uses, such as updatable newspapers and the like. However, it appears Sony's entrant is the first to be able to incorporate a full-color display.