Microsoft Adds New York to 3D Maps

Microsoft has updated its Live Search Maps service to include photo-realistic 3D imagery of New York City and six other U.S. cities along with Ottawa, Canada and Northampton, England.
Some had criticized Microsoft for leaving out one of the nation's most populous cities when the first 3D cities were announced. However, Microsoft answered the call Tuesday by adding the Big Apple.
Other than the international cities previously mentioned, 3D imagery will also be available for Austin, Texas, Cape Coral and Tampa, Fla., Cincinnati, Ohio, Indianapolis, Ind., and Savannah, Ga.
More cities are expected to come online throughout the summer. Microsoft says that aerial views of various important city landmarks, business listings, driving directions, and traffic information will be incorporated directly into the maps.
Whereas previous 3D functionality showed aerial shots of cities, the updated version now shows the buildings in a more realistic 3D format. Such functionality was already available for 15 cities through the service's beta program, including San Francisco, Seattle, Boston, Philadelphia, Los Angeles, and Denver.
Thus far, the reaction to the update has been rather muted. "Virtual Earth 3D is kinda hard to use," Arnold Zafra wrote for Search Engine Journal. "Google Earth is a lot easier to use even for first time users."
Greg Sterling of Search Engine Land had a similar experience. He reported that he had trouble recreating the 3D views Microsoft used in its promotional video for the announcement.
---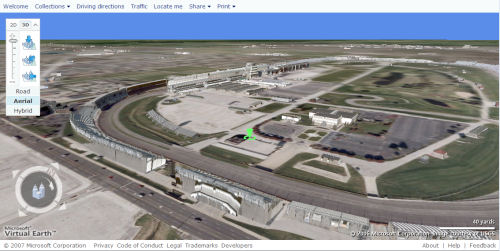 One of the world's landmarks as seen from space is the Indianapolis Motor Speedway; and Microsoft Virtual Earth's overhead view of the Speedway is frankly quite impressive. Give the sky a more believable background color than bright cobalt blue, and this could pass for a postcard shot.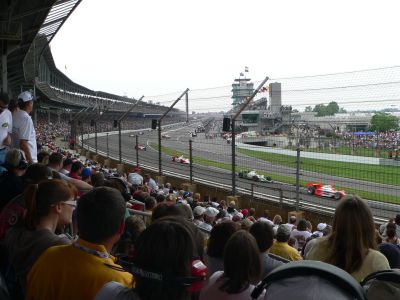 But from ground level, it could use a little work. Sure, it's recognizable, but the end effect looks like a storyboard for a sequel to "The Day After Tomorrow." I tried positioning Virtual Earth's camera as close to my actual seats at the Speedway as possible. Here's a look at the real Speedway, in a shot I took at last Sunday's race. One inexpensive way to make this shot more believable is if the grandstands were plotted with an overhanging shelter rather than as an encased sarcophagus.
By the way, who's that on the track? From right to left, #3 Helio Castroneves; #11 Tony Kanaan; #6 Sam Hornish, Jr.; #10 Dan Wheldon; #27 Dario Franchitti (who eventually won); #26 Marco Andretti.
---