Opera Mini 4 Available for Phones

After nearly 5 months of beta testing, Opera Software has released version 4 of its Opera Mini Web browser for mobile phones. The update includes iPhone-like capabilities that enable users to see a full overview of a page and zoom in to specific parts.
When zooming, Opera Mini snaps to content so scrolling is smooth. A virtual mouse cursor aids users in moving down a page and selecting links, although the software resizes text and images to reduce the amount of scrolling required. These features were originally developed for Opera's browser on the Nintendo Wii.
Opera says the new Mini is twice as fast as any other mobile browser, and because it is based on Java, it works on almost any handset. Version 4 additionally supports Opera Link, a platform for synchronizing bookmarks and user data via Opera's social network called My Opera.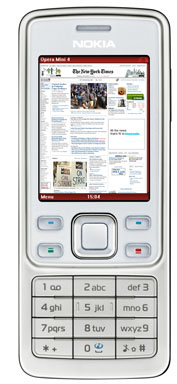 The company says more than 26 million individuals are using Opera Mini to load more than a billion Web pages each month.
"Two years ago, we introduced Opera Mini to the world because we wanted to bring the Web to users everywhere. Today, Opera Mini is the world's most popular mobile browser", remarked Opera CEO Jon von Tetzchner. "As a result, the mobile Web is now a mass phenomenon. Opera Mini 4 raises the bar for user-friendly access to the Web on any mobile phone, anywhere in the world."
For more information on Opera Mini 4, and to download the software directly to a phone, visit the browser's homepage. Palm and Blackberry versions are available for manual download and installation.