Latest Firefox beta passes Acid2 test, IE8 claims to pass also

After a screenshot on MSDN appeared to show an IE8 beta passing an accepted Web standards test, some came to the only conclusion they could: that the test had to be broken.
A test created by the Web Standards Project advocacy group for visually gauging the compliance of Web browsers with published standards, appears to have been passed by a beta of Microsoft's Internet Explorer 8, according to a recent post on the IE developer team's blog. And a test this morning by BetaNews of Mozilla's Firefox 3.0 Beta 2 for Windows Vista, released on Wednesday, clearly shows it passes as well.
The Acid2 test uses a multitude of standards-compliant instructions, perhaps in an intentionally though otherwise unnecessarily complex fashion, to produce the image of a somewhat geeky-looking cartoon happy face. If a browser fails to execute the instructions properly, the rendering looks instead like someone accidentally launched their Wii controller into their TV tube.
If confirmed, the passing of the Acid2 test by both betas could mark a significant milestone. For comparison's sake, BetaNews tried the Acid2 test on fully patched versions of Internet Explorer 7 and Firefox 2.0 for Windows XP. The results were somewhat less than stellar.

On Firefox 2.0.0.11 running in Windows XP, the background did not light up red, which is apparently an indicator that the browser has no reason to believe something is horribly wrong here. Obviously, there is.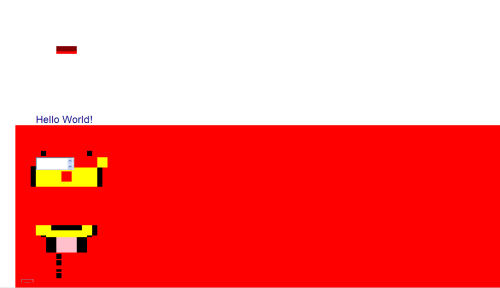 Internet Explorer build 7.0.5730.11 at least apparently knows something has gone wrong, which is why the background has lit up red. Notice the awkward presence of the spinner dial control, from out of nowhere.

Firefox 3.0 Beta 2, running on Windows Vista, shows us precisely how the face should appear when the test is passed with flying colors. Or more accurately, "flying color:" If absolutely everything works, the little fellow's nose will light up blue when you point to it. Here, even the glowing nose test passes muster.
Surprisingly, rather than gloat on the IE8 team's success in apparently also passing the Acid2 test, its general manager, Dean Hatchamovitch, instead downplayed the whole test as not being nearly as important as the overall goal that is the theme of his company's effort to play nice with the European Commission.
"When we look at the long lists of standards (even from just one standards body, like the W3C), which standards are the most important for us to support?" Hatchamovitch wrote, The Web has many kinds of standards - true industry standards, like those from the W3C, de facto standards, unilateral standards, open standards, and more...Different individuals have different opinions about different standards. The important thing about the Acid2 test is that it reflects what one particular group of smart people 'consider most important for the future of the Web.'
"The key goal (for the Web Standards Project as well as many other groups and individuals) is interoperability," he continued. "As a developer, I'd prefer to not have to write the same site multiple times for different browsers. Standards are a (critical!) means to this end, and we focus on the standards that will help actual, real-world interoperability the most."
After news broke of IE8's achievement yesterday, beta testers registered with Mozilla said they noticed their Firefox 3.0 Beta 2 versions failed. That revelation immediately led some to wonder if "the test broke," and provoked one participant to post an alternate version of the test that "fixed" it so that their beta would pass. (In BetaNews tests, our Beta 2 version passed the Acid2 test that testers claimed was "broken.")
The strange, if accurate, turn of events led at least one tester to post a conspiracy theory: "Maybe MS just asked for the site to be changed slightly so they could take a couple of screenshots."