Panasonic announces new full-HD camcorders

Featuring Leica lenses, image stabilization and 1920x1080 progressive recording, Panasonic unveiled two HD cameras on Tuesday poised to take the throne from Canon in the portable camcorder market.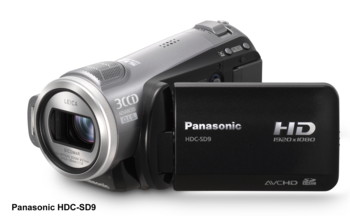 Apart from storage options, both cameras are identical. The higher-end model, the HDC-HS9, can record to an SD memory card or its built-in 60 GB hard drive, giving it a total capacity of 29 hours of HD-quality video. Its brother, the HDC-SD9, is limited to SD only.
Advanced face detection, 3CCD lens technology and a 0.6 second startup time are some of the additional features offered. The cameras are slated to be released in March 2008, with the SD9 at a price point of $800 USD and the HS9 at $1100 USD.