Nokia brings back N-Gage, opens social network

Today, handset manufacturer Nokia began the rollout of its revised N-Gage gaming service and its new Share on Ovi media sharing site.
After several delays due to numerous software issues, Nokia's N-Gage gaming platform has begun its rollout with "First Access" being granted to N-81 owners. Users of that particular handset have access to a pre-release version of the N-Gage application and four games, including: Hooked On: Creatures of the Deep, Space Impact: Kappa Base, Block Breaker Deluxe, and System Rush: Evolution.
The company's blog warns against unauthorized versions of the N-Gage application which support handsets other than the N81, as more compatible handsets will receive their own versions soon: these include the N73, N82, N93 and 93i, N95, and a wide range of S60 Nokia devices.
Share on Ovi, Nokia's attempt at a mobile social networking site was built on technology from US company Twango. The site allows users to upload, manage, and share photos, videos and music of over 100 file types. Share on Ovi is currently in public beta.
While Nokia is one of the world's top handset manufacturers, it is still relatively new in the software and services field.
---
| | |
| --- | --- |
| | Screen shot of the yet-to-be-released FIFA '08, which is slated to be part of the N-Gage gaming network lineup at launch time. After a wait of more than two years, Nokia has yet to reveal a launch date. [Courtesy Nokia] |
---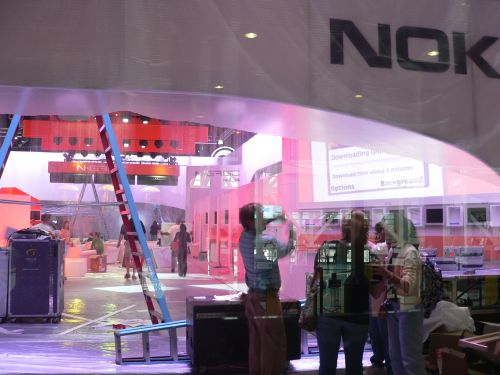 This snapshot taken the day before the opening of the final E3 Expo in Los Angeles in May 2006 shows Nokia setting up for what was supposed to have been its initial N-Gage rollout...almost two years ago. [Original photograph for TG Daily by Scott Fulton]