Windows Server 2008: To keep things stable, you need new hardware

Microsoft has a growing number of beneficiaries to whom it must simultaneously appeal. There are OEM partners who want Windows Server to drive sales, and clients who at the same time plead for no more disruptions.
LOS ANGELES (BetaNews) - The big message from Microsoft's gala launch on Wednesday had to do with changing the world, and the role information workers may play to that end. Yet Microsoft's own business customers are looking for operating systems to stop making sweeping changes to the way they work, to stop forcing them to make plans around Microsoft's itinerary...and the company's own program mangers are acknowledging this new reality.
"Both our customers and our partners don't want major changes in the operating system every two years," said Bob Visse, senior director of the Windows Server Marketing Group, in an interview with BetaNews on Wednesday, the day of Windows Server 2008's official release. "So we've committed to being on a regular cadence of doing a major release every four years, plus or minus a few months, and a minor release every two years."
It's a variation of the "tick-tock" cadence model that Intel instituted in the summer of 2006, both as a trademark for its rapid pace of progress and an annoyance for AMD: Start doing major changes on a schedule that everyone can anticipate, and don't spring surprises on customers who aren't prepared.
So during minor release periods, Visse said, little or nothing will be done that will impact the nature of running applications. But during those major release periods (set your calendars for 2012), the fact alone that device drivers must change will signal the need for the infrastructure that drives applications to change with it.
"That's something we've been communicating with customers now for awhile, and we hear positive feedback on that both from customers and partners," remarked Visse. "With a base this big, you really have to watch the cadence."
If customers prefer a smoother, calmer cadence of change -- steady, though predictable -- then would there continue to be a need for these gala launch events? Besides the obvious social purpose, Visse responded, maybe the reason for the celebration is the fact that everything is proceeding as planned...assuming, of course, that everything is proceeding as planned.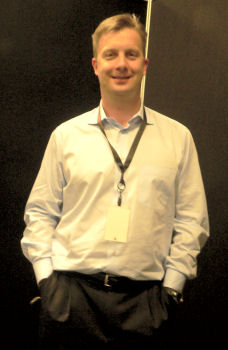 Microsoft Senior Director for Windows Server Marketing Bob Visse
"One of the things [Microsoft] is focused on is delivering software as a service, and what's interesting about that model is that those incremental changes that you're talking about can be a lot less disruptive in a model like that," related Visse. "You're not having to really do all that much -- you just wake up one day and that software has been updated, and you're happy because you either have a new feature or better security or [something else]. In a lot of ways, we've already moved in that direction, maybe more substantially than the industry gives us credit for."
The reliance by many of Microsoft's enterprise customers on Windows Server Update Services as their primary source for incremental improvements -- "drizzled bits," as Visse calls them -- is a key indicator of that.
Meanwhile, Visse has another message to deliver that, on the surface, sounds almost completely contradictory: The arrival of Windows Server 2008 should sound the alarm that it's time for enterprises to replace their server hardware.
"First and foremost, we fully expect somewhere between 90% and 95% of Windows Server 2008 to go out on new hardware," Visse stated. "That's typically what we see, and we think we'll continue to see that. That's the vast majority of the sell-through of this product."
Providing the axle grease for this upheaval in a way that wasn't feasible for the transition from Windows 2000 (or Windows NT 4.0) to Windows Server 2003, will be virtualization. All by itself, it provides the value proposition both for the ease of migration between operating systems and the impetus for transition to new server hardware. The argument goes something like this: You can't have an easy software migration without a quick and decisive hardware transition.
"One of the things that we try to do when we architected [Windows Server 2008] was make sure that it was a good citizen, that it lived well with [Windows Server] 2003 and 2000, because we know there's still a lot of that out there," Visse told BetaNews. "But there's nothing radical in the architecture that will impact the existing infrastructure that you have in place. So if you're running 2003 R2 or even 2003 for your TNS and you don't want to change that, and there's something else that you want to take advantage of -- the new presentation virtualization, Terminal Services features -- no problem. You can still do that. Or if you wanted to take advantage of Server Core for something particular like an IIS workload, and you wanted to put up a new Web site or SharePoint site, no problem, you can still do that and keep all your old Windows Server [infrastructure], and it will work well together."
Next: Virtualization as the vehicle for both change and stability...