Adobe releases beta of Lightroom 2.0 photo editing tool

Adobe today released a beta version of Lightroom 2.0, the company's photo management and editing toolkit, which adds non-destructive localized editing and a slew of other new features.
Photographers have had a lot of updates to deal with in recent weeks, with Apple's Aperture receiving the ability to employ third-party plug-ins, Adobe releasing its Web-based version of Photoshop, after having to pull the Lightroom 1.4 update due to EXIF Timestamp Errors, DNG conversion errors in Windows, and Olympus JPEG conversion errors.
In addition to being the first Adobe product to support 64-bit Windows Vista and OS X 10.5 (Intel), Lightroom 2.0 extends the non-destructive editing functions of Lightroom 1.0 to include local edits. Users are presented with a brush tool that can dodge or burn, adjust the exposure, clarity or saturation of select areas of individual photos.
While Lightroom 1.0 set a precedent for the software being more of a "workflow" tool, the ability to localize editing means Lightroom 2.0 grows the scope of the application simply complementing Photoshop to one that could eventually be a standalone solution like Apple's Aperture.
Other new features in Lightroom 2.0 include dual monitor support, and "Smart Collection" tagging, which suggests appropriate keywords based upon trends in photo catalogs.
"It really feels like the beta process never stopped and we've received a ton of great feedback through the feature request submissions, customer conversations, forum discussions, tradeshows and targeted customer visits," explained Lightroom product manager Tom Hogarty in a blog post. "We're glad to continue the process by releasing this version before it's final to get your opinions on our progress."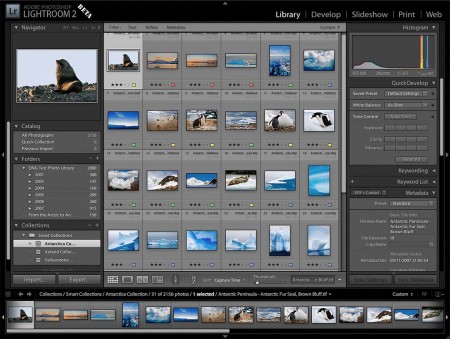 "This is different from the previous Lightroom beta in that we'll be targeting feedback on new enhancements and aiming to release the final version sooner than we did in the previous year-long beta," Hogarty added.
The beta period begins today and lasts until August 31 for Lightroom 1.0 users, who may also invite others to participate until the end of summer. Otherwise, the free beta release of Lightroom 2.0 lasts 30 days, and can be downloaded from Adobe's Labs site. System requirements and known issues can be viewed in the release notes.